Sven Sachsalber is no longer with us. It is unbelievable and infinitely sad that this young and talented artist passed away so unexpectedly. Sven Sachsalber was only 33 years old, and last year I had the honor of giving the laudation for him on the occasion of the Paul Flora award ceremony in Glurns, an award that we as the jury had unanimously given him for his artistic work.
I met Sven in 2014, at the time he had just graduated from the Royal College of Art in London, had just won the coveted Premio New York and the associated artist residence, an important springboard for young and promising artists, and was up the jump to New York, the city in which he has lived since then. My contact with Sven was sporadic but continuous during these years, and when we did we talked on the phone, despite the great distance and time differences. He always preferred direct conversation and personal exchange, email was too non-binding and indirect for him.
As Sven himself always emphasized, art has a therapeutic function in that the artist puts himself at risk, immediately actively and creatively with the fear of loss.
In 2014, Sven presented himself to the South Tyrolean audience for the first time as part of a solo presentation in the foyer of the Museion, and we remembered the honesty and courageous consistency of his work for a long time. He had created a walk-in box that was hermetically sealed from the outside, a room that could only be entered through a low opening when bent over. This led to an intimate interior, in which mainly drawings and paintings could be seen, as well as a photographic self-portrait of the artist with a killed fox on his shoulder, in a heroic gesture and a mixture of pride and sadness. A staged picture, but emotionally totally authentic. The drawings and paintings were made by Sven in collaboration with his father Markus Licata, who was a hobby artist. A first attempt by Sven to address his conflicted relationship with his father by inviting his father to participate in the exhibition with him. He found a second opportunity to do this in 2015 in New York, where Sven and Markus put together thousands of puzzle pieces in an exhibition room over days and weeks. The motif was from the ceiling fresco by Michelangelo in the Sistine Chapel, Adam and God the Father, whose index fingers are touching. It seems fateful that Sven's father preceded his son into eternity in February 2020.
Hands: The exhibition by Sven Sachsalber in the Museion in Bozen / Source: Museion
As Sven himself always emphasized, art has a therapeutic function in that the artist puts himself at risk, immediately actively and creatively with the fear of loss. For those who deal with it and get involved with it, it has a cathartic effect. Because it has an effect on the viewer, beyond preoccupation with the artist's private themes, and is linked to a larger, generally applicable dimension in the viewer's thinking and empathy. The authenticity of the artistic gesture and the content of the message has always been a fundamental concern of Sven Sachsalber's work.
Sven became known to an international specialist audience with an art campaign in the renowned Tokyo Palace in Paris, also in 2014. Sven had a huge haystack moved into the large entrance hall, in which the director, Jean de Loisy, hid a needle in a press-effective manner. The performance was planned for 24 hours, during which Sven literally looked for the needle in a haystack in a lonely, physically and psychologically extremely demanding action. An act whose simplicity and at the same time explosive symbolic power mobilized the international press and attention to an unimaginable degree. The unswerving persistence of the artistic stance in this hopeless situation, which ultimately led to the finding of the needle, conveyed a deep and powerful image, both visually and in terms of content.
Sven's brilliant career is all the more remarkable when you consider that only a few years earlier he had aspired to a career as a ski racer. He had trained with Dominik Paris, whose roommate he was, but a serious knee injury suddenly ended his plans. As an artist, Sven Sachsalber has remained a ski racer, the speed, the willingness to take risks, the strength belonged to him, but also the courage to plunge into the depths of the content at full risk and to always try to keep your balance without knowing whether you end up in the net in the event of a fall or out of bounds.
Das Puzzle: "The Creation of Adam" according to Michelangelo consists of 13,200 parts. The action artist Sven Sachsalber calls his performance in the New York gallery White Columns "Hands". Together with his father, he wants to shape the pieces of the puzzle into a picture, thereby creating a reference to the therapy center of the same name based in Bolzano, where his father stayed. The picture was supposed to show Adam stretching out his left index finger in order to reach God, who in turn stretches out the right one and lets the spark of life jump onto Adam. (Director: Karl Prossliner, Camera: Daniel Mazza, Sound: Martin Fliri, Cornelia Schöpf, Editor: Daniel Mazza, Color: Florian Geiser, 2016) / Source: K.Filmproduktion
In his very first performance in 2013, Sven Sachsalber rode a boat around the church tower of Lake Reschen for 24 hours. In 2017 he worked on a large-format canvas for months, which he divided into 5×5 mm small grids, where he painted each individual mini grid square with orange oil paint so that a white border remained all around. Completing this work meant an ascetic consistency and perseverance, which he only managed because he had done the work in honor of the Buddhist monk Tich Quang Duc, who on June 11, 1963 in protest at the persecution of Buddhist monks by the South Vietnamese government the public square had burned, an act which, with its incomparable consistency, repeatedly motivated Sven to continue.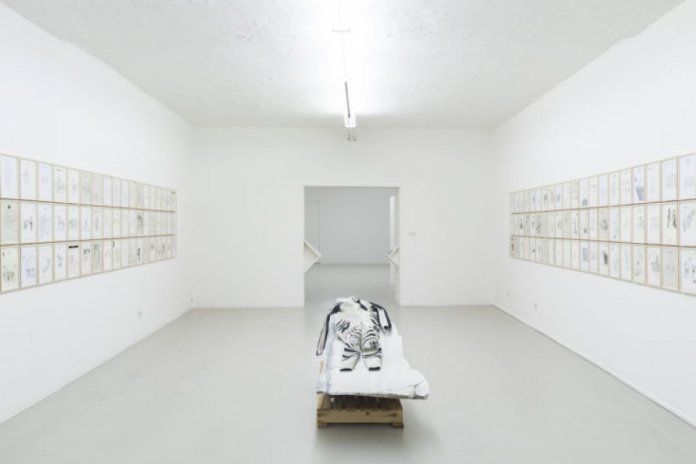 Bookstore Kalter König in the ar / ge art in Bozen, 2018 / Photo: Tiberio Sorvillo
For his last solo exhibition in the ar / ge art In Bozen 2019 he realized a series of 222 pencil drawings and comics, in which he dealt with the demons of his artistic ancestors, Rudolf Stolz and Albin Egger Lienz, through to the devil larvae of the upper Vinschgau, skulls, details of record covers, scenes from tourist attractions Postcards, Max and Moritz, to the gloomy depictions of an HR Giger or an Alfred Kubin, and Pumuckl, a colorful potpourri of cultural contexts and contents, beautiful and disturbing at the same time. He had realized this on the sheets of a limited edition by Martin Kippenberger, a sacrilege in view of the value of this document, and in any case a cheeky reinterpretation and new use of the Kippenberger work, full of respect and at the same time full of transgression towards the great master. It is interesting that, from the New York perspective, Sven actually dealt mainly with his roots, with his origins, with the alpine tradition, in a critical and ironic comment also on the marketing-strategic exploitation of his homeland. In this attitude, as well as in the equally serious and ironic reinterpretation of cultural topics, which he mainly implemented in comics and drawings, Sven Sachsalber also approached Paul Flora, whom he valued extremely as an artist and who inspired him .
Liftboys: Performance by Peter Holzknecht and Sven Sachsalber in three acts, 2013 / Source: Festival Transart
The last presentation of a work by Sven in an exhibition in South Tyrol was in 2019 in the Diocesan Museum in Brixen. At that time he hung a large-format drawing depicting a cycling suit with a fleshy muscle look in the immediate vicinity of the life-size Christ's Corpus Christi carved by Hans Klocker around 1500 and lying in a showcase. An image that has become symbolic today.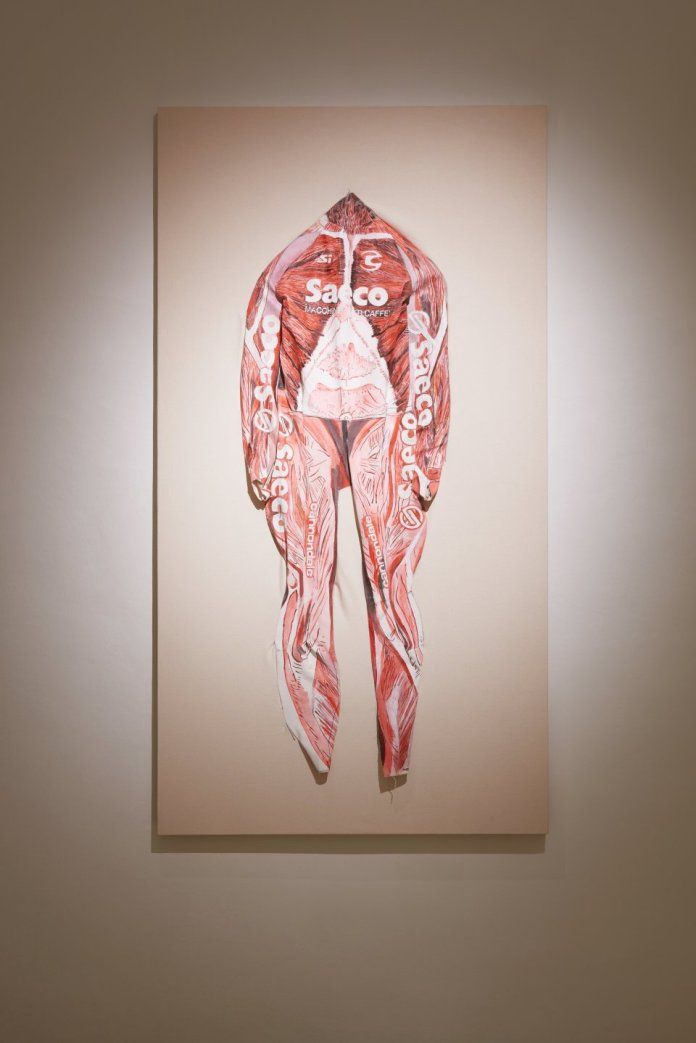 Dealing with iconic images is a decisive element in Sven's work, and then topping it up, as Sven himself always put it. It was always about increasing the perceived intensity and giving the whole thing a new twist in terms of content at the right moment. The focus was on working with one's own body and one's own psychological resources, often to the limits of feasibility and beyond. Sven was someone who grabbed the bull by the horns and was not afraid to look where it was uncomfortable and where it hurt. The music was his constant companion, Black Flag, The Fall, Sonic Youth, Einstürzende Neubauten, the sound of the gabber, a fast beat. In art, it is Kippenberger, Raymond Pettibon, definitely Andy Warhol and American pop art, to name just a few cornerstones that fascinated and inspired him.
Sven claimed not to be a concept artist, although he was right in that he did not want to make art that needed an additional explanation. His art should reach the guts and the intellect alike, it was fed by the images, memories and emotions that accompanied him in everyday life and that signified his cultural origin.
It hurts to know that we no longer have Sven with us. But we have his art that accompanies us and teaches us that it is worth living a life that rocks!
Sabine Gamper
These were the details of the news Authenticity of the artistic gesture | Salto. Or for this day. We hope that we have succeeded by giving you the full details and information. To follow all our news, you can subscribe to the alerts system or to one of our different systems to provide you with all that is new.

It is also worth noting that the original news has been published and is available at de24.news and the editorial team at AlKhaleej Today has confirmed it and it has been modified, and it may have been completely transferred or quoted from it and you can read and follow this news from its main source.