Thank you for your reading and interest in the news Trump unveils Middle East peace plan that favours Israel and now with details
Hind Al Soulia - Riyadh - US President Donald Trump unveiled his long-awaited peace plan on Tuesday, offering the Palestinians a sovereign state with a capital in parts of occupied East Jerusalem if they meet a host of conditions.
Mr Trump called the plan a "historic opportunity" to end the decades-long conflict.
The 80-page document, rejected by the Palestinians before and after its unveiling, would "more than double" the size of Palestinian territory in occupied East Jerusalem and the occupied West Bank, while meeting Israel's security requirements, he said.
Mr Trump made the announcement alongside Israeli Prime Minister Benjamin Netanyahu, who he said endorsed the plan and agreed to negotiations with the Palestinians.
The plan is expected to recognise all of Israel's settlements in the occupied West Bank, which are considered to be illegal by much of the international community, in a move that would allow Israel to annex all of the outposts, home to more than 400,000 settlers.
Jerusalem will "remain Israel's undivided capital", Mr Trump said, and Israel's illegal settlement outposts in occupied East Jerusalem would fall under Israeli sovereignty.
It would leave all of Jerusalem up to the security barrier that dissects Palestinian communities in occupied East Jerusalem as Israeli territory, with Arab neighbourhoods outside the wall serving as the Palestinian capital.
The plan will form the basis of negotiations if both sides agree to come to the table.
But the Palestinians immediately rejected the plan.
An official told The National that the Trump administration was "making it easier for us than expected" in terms of rallying the international community around the Palestinian bid for statehood because of what he said was its pro-Israeli approach.
"We are certain that our Palestinian people will not let these conspiracies pass," senior Hamas official Khalil Al Hayya said.
"So all options are open. The occupation and the US administration will bear the responsibility for what they did."
The official Palestinian news agency Wafa quoted Hamas leader Ismail Haniyeh as saying his group supported Palestinian Authority President Mahmoud Abbas's "steadfast positions".
Mr Haniyeh said Hamas rejected the White House's peace plan and called on Palestinian factions to set their differences aside and unite against the plan.
_______________
The peace plan document in full
_______________
Mr Trump also said he sent a letter to Mr Abbas outlining his vision "for a wonderful state."
"It will work," he said, inviting him to negotiate the plan. "I explained to him that the territory allocated for his new state will remain open and undeveloped for a period of four years.
"My vision presents a win-win opportunity for both sides, a realistic two-state solution that resolves the risk of Palestinian statehood to Israel's security. Today, Israel has taken a giant step towards peace.
"Forging peace between Palestinians and Israelis may be the biggest challenge of all but I was not elected to do small things."
Mr Trump was addressing an audience including US Secretary of State Mike Pompeo, Treasury Secretary Steve Mnuchin, special representative for Iran Brian Hook, Mr Trump's daughter Ivanka, son-in-law Jared Kushner and Arab ambassadors including the UAE's Yousef Al Otaiba.
The ambassadors of Oman and Bahrain were also present.
No Palestinians or Israelis will be uprooted from their homes in the implementation of the plan, Mr Trump said.
The US would open an embassy in any future Palestinian state as part of the plan.
Statehood would depend on the Palestinians respecting human rights, freedom of the press, and having a transparent and credible judiciary, the plan states.
It will include "the firm rejection of terrorism", Mr Trump said.
"Peace requires compromise but we will never ask Israel to compromise its security. Can't do that," he said.
Mr Trump said that his proposal represents a "historic opportunity" for the Palestinians to achieve a sovereign state, calling it their "last chance" to do so.
As part of the plan, Israel would agree to a four-year freeze on settlement activity while Palestinian statehood was negotiated.
Mr Netanyahu said he had agreed to negotiate with the Palestinians on the basis of Mr Trump's deal and thanked him for being the "greatest friend Israel has ever had in the White House".
The plan calls for Palestinian refugees to be able to return to a future state and creates a "generous compensation fund".
The fate of Jerusalem's holy sites will remain unchanged, with Jordan retaining custodianship of Al Aqsa Mosque compound.
Mr Netanyahu said the site would be open to all faiths, hinting that Jews may be allowed to pray at the site under the plan, something that had been forbidden at the compound.
US ambassador to Israel and settlement donor David Friedman said in a conference call that he hoped the Palestinians "agree to come to the table we'll support continued negotiations on all the issues".
But Mr Friedman did not see Palestinians acquiescence as mandatory for the plan to succeed.
"It doesn't matter what the Palestinians say," he said. "We are going to keep this option open to them for four years."
In response to the plan, Jordan said an independent Palestinian state must be based on 1967 lines with East Jerusalem as its capital.
"The two-state solution that fulfils the legitimate rights of the Palestinian people, in accordance with international law, is the only path to a comprehensive and lasting peace," Jordan said.
The Jordanian Foreign Minister, Ayman Safadi, warned "against the dangerous consequences of unilateral Israeli measures".
King Abdullah will dedicate all resources "to protect Jerusalem and its holy sites, preserve the historical and legal status quo and protect their Muslim, Christian identity", Mr Safadi said.
"Jordan supports every genuine effort aimed at achieving just and comprehensive peace," he said.
Mr Safadi said such peace was necessary for the security and stability of the region, and "protects the interests of Jordan, including these related to final status issues".
Mr Trump said Palestinians had been trapped in a cycle of "terrorism, poverty and violence" that had prevented their national hopes.
He made no mention of the Israeli military occupation that has existed in the Palestinian territories since the 1967 Arab-Israeli War.
"I was saddened by the fate of the Palestinian people. They deserve a far better life," Mr Trump said of his trip to Bethlehem to meet Mr Abbas in 2017.
"They deserve a chance to achieve their extraordinary potential."
He called extremism the biggest threat in the region and praised the state of Israel as a "light into the world".
Mr Trump and Mr Netanyahu are under pressure at home.
Mr Trump is in the middle of an impeachment scandal, while the Israeli leader faces three corruption cases, for which he was formally charged by Israel's attorney general on Tuesday.
His main rival, Benny Gantz, who he will face for the third time in less than a year in a March election, also travelled to Washington to meet Mr Trump.
Speculation has been rife about the plan's contents since the US president entered office in January 2017. Palestinians have long rejected it, predicting that it would only favour Israel.
Since 2017, Mr Trump has relocated the US embassy from Tel Aviv to Jerusalem, closed the Palestinian mission in Washington, cut aid to Palestinian hospitals in East Jerusalem, slashed all funding to the UN refugee agency helping Palestinians and reversed the US position of Israeli settlements as illegal outposts.
Settlers leaders expressed concern before its release that it would allow for the future creation of a Palestinian state, and said it would reject any plan that did so.
Mr Trump expressed optimism on Monday that the Palestinians would eventually accept the deal.
But the plan was released as rival Palestinians faction met in Ramallah, a rare coming together of Mr Abbas's Fatah and Hamas, the rulers of Gaza, who have been at odds since Hamas took over the coastal enclave in 2007.
The Arab League said it would host an urgent meeting on Saturday to discuss its response to the proposal.
Mr Netanyahu's office said he would travel to Moscow on Wednesday to discuss the plan with Russian President Vladimir Putin.
On Tuesday, Russian Foreign Minister Sergey Lavrov said the US, Russia, the EU and the UN should analyse the proposal.
The EU was expected to repeat its position of support for a two-state solution.
British Prime Minister Boris Johnson's spokesman said the US Middle East plan could be a positive step. Mr Johnson spoke with Mr Trump by phone on Tuesday.
The grand imam of Egypt's prestigious Al Azhar mosque and university criticised the plan at a conference in Cairo on Tuesday, in the presence of many of the Sunni world's leading religious scholars.
"They're the ones planning, talking, controlling and solving problems for us and there's no Arab or Muslim," Ahmed Al Tayeb said.
Hours ahead of the release, Palestinians held protests against the plan, burning pictures of Mr Trump and the American flag in Gaza. More rallies are expected in the coming days.
The Israeli military said it had sent security reinforcements to the occupied West Bank in preparation for a reaction to the plan and had decided to "reinforce the Jordan Valley area with infantry".
A settler group announced that the population of Jewish settlements in the occupied West Bank had surged by more than 3 per cent in 2019.
It said building would be even higher this year because of construction undertaken after Mr Trump's inauguration.
Baruch Gordon, director of West Bank Jewish Population Stats, said the population of the territory's settlements rose to 463,353 as of January 1, up from 449,508 a year earlier. The group used official Israeli Interior Ministry data.
"We're here and we're not going anywhere," he said.
________________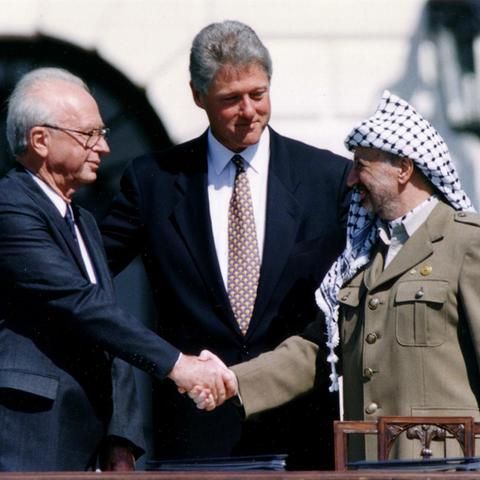 Updated: January 28, 2020 11:43 PM
These were the details of the news Trump unveils Middle East peace plan that favours Israel for this day. We hope that we have succeeded by giving you the full details and information. To follow all our news, you can subscribe to the alerts system or to one of our different systems to provide you with all that is new.

It is also worth noting that the original news has been published and is available at The National and the editorial team at AlKhaleej Today has confirmed it and it has been modified, and it may have been completely transferred or quoted from it and you can read and follow this news from its main source.