A DEFUNCT Russian satellite and a Chinese missile part are on their way to catastrophically crashing tonight or missing just under 960 km above the earth.
Estimates put it at a relative speed of 27,000 km / h, and scientists warn that an impact would disperse thousands of pieces of space debris into orbit.
This debris poses no threat to life on Earth, but if it were to turn off more space technology it could start a chain reaction that costs billions in damage.
The upcoming cosmic fracas were first recorded by the space debris tracking service LeoLabs.
"We are monitoring a very high-risk connection between two large, non-existent objects in the Low Earth Orbit," the US data processors wrote on Twitter.
"This event is still associated with a very high risk and will probably remain so in the time of the closest rapprochement."
According to LeoLabs, the dead military satellite and the missile stage will pass within 12 meters of each other on October 16.
They will cross at 1:56 a.m. CET (8:56 p.m. CET on October 15). There is a 10 percent chance that they will collide over the Weddell Sea near Antarctica.
Scientists say the cosmic crash would be one of the worst in history.
"This is possibly one of the worst collisions we've seen in a while," space archaeologist Alice Gorman of Flinders University in Australia told ScienceAlert.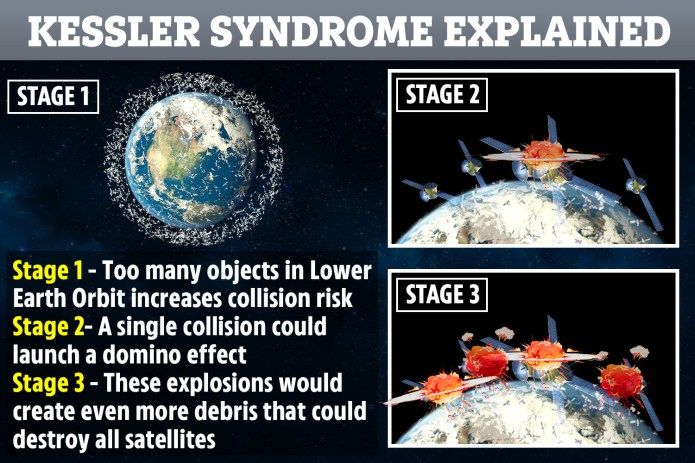 The discarded Russian space technology is a Parus military satellite, launched in 1988, weighing around 825 kg.
It moves south towards the south poles above the earth.
The Chinese Chang Zheng 4C rocket stage was launched in 2009 and is heading north across the Falkland Islands. It weighs around 2,000 kg.
The total mass of the objects orbiting 615 miles above our planet is 2,800 kg – as much as two small cars.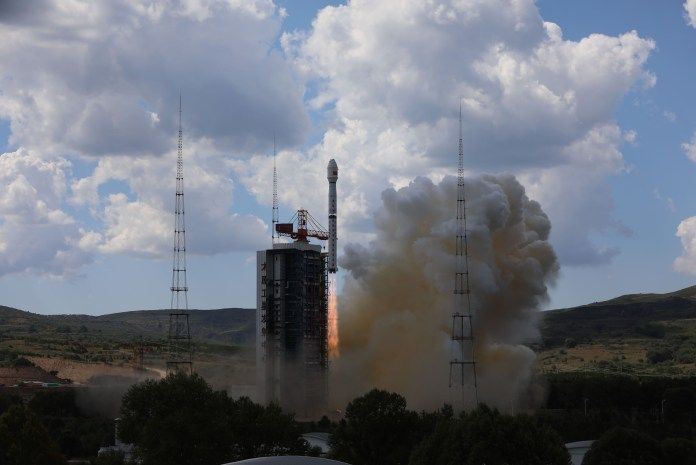 Orbital debris are artificial objects in orbit that no longer fulfill a function.
It can include anything from satellites that no longer exist to dropped rocket parts and bits and pieces from previous space crashes.
Experts say a collision on Friday would put 10 to 20 percent more debris into orbit.
Current estimates assume that there are more than 1.7 million pieces of space debris over our planet.
Space scientists will watch anxiously as the rogue pieces draw closer together tonight.
It is believed that space debris trackers will know if the two ran into each other a few hours after the predicted meeting.
Professor Richard Easther, a physicist at Auckland University, said if they collided it would be "a mess".
"So many, many uncontrollable debris," he told the New Zealand Stuff website.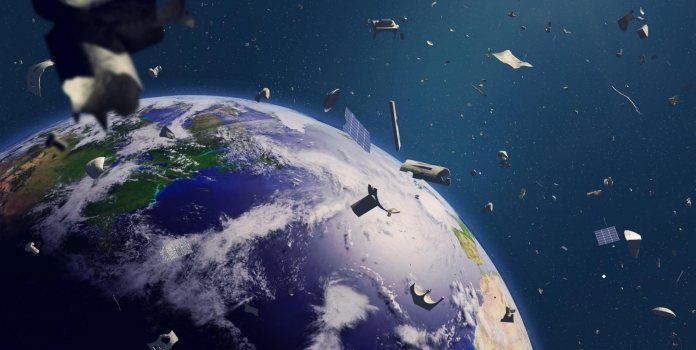 A crash would throw a large number of tiny objects that would move in an uncontrolled orbit.
This could start a chain reaction that leads to more collisions and makes it difficult for future satellites to use certain orbits, Professor Easther said.
Space debris is becoming a scratch for scientists.
There are currently no international regulations preventing space agencies from leaving anything they want over our heads.
Last month the International Space Station, orbiting 420 km above the earth, had to perform an emergency maneuver to avoid a rogue piece, for the third time this year.
Terrifying space weapons of the future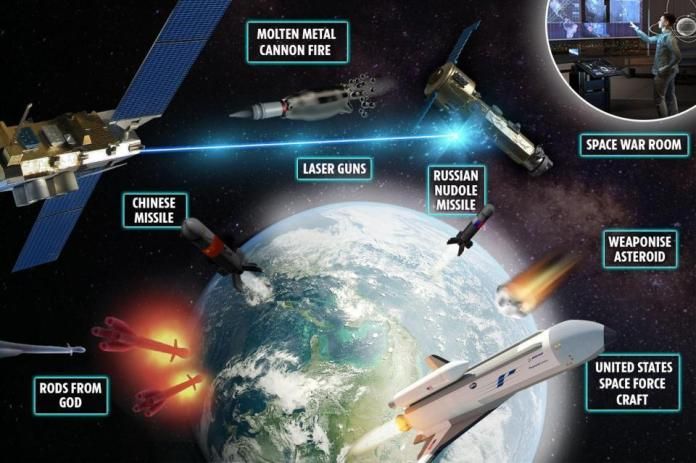 Here are three of the scariest …
Rods from God
A strange but utterly terrifying weapon has been called the "Rods of God" and is based on the concept of creating artificial meteorites that can be guided towards the enemy.
Telephone poles are used instead of stone poles.
These would be made of tungsten – a rare metal that can withstand the intense heat generated when it enters the earth's atmosphere.
One satellite fires the rods towards the earth's atmosphere, while the other directs them to a target on the ground.
At a speed of 7,000 miles per hour, they hit the ground with the power of a small nuclear weapon – but what is crucial is that no radiation falls out.
As bizarre as it sounds, a recent report from the US Congress revealed that the military had advanced kinetic space weapons.
Molten metal cannons
This fascinating idea is being developed by the United States Agency for Advanced Defense Research Projects (DARPA).
It's called Magneto Hydrodynamic Explosive Munition, or MAHEM.
This groundbreaking rail gun can fire a jet of molten metal that is ejected through space at speeds of hundreds of miles per second by the most powerful electromagnets ever built.
The molten metal can then turn into an aerodynamic snail during flight and stab through another spaceship or satellite, and ammunition explodes inside.
Spaceships
The United States is already powering the head with its spaceship, although China is busy developing one of its own.
The top secret American XS-1 being developed by DARPA.
It can reach ten times the speed of sound and shoot missiles.
An unmanned vehicle is currently being developed at the China Aerodynamics Research and Development Center in Mianyang, Sichuan Province, also known as Base 29.
Experts fear that the ever-increasing amount of debris over our planet could lead to a terrible phenomenon known as Kessler syndrome.
Kessler Syndrome was invented by NASA scientist Donald J. Kessler and is the idea that a chain reaction of exploding space debris could create so much space debris in orbit that we would be trapped on Earth.
Rockets would not have a clear path out of our atmosphere, which means that satellite launches and manned missions into space would stall.
There is currently no way to remove debris from Earth orbit, but the European Space Agency is working on a spacecraft that can do it.
The secret Russian spy satellite "exploded in space" – and it could have been deliberate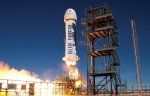 SPACE WAVE
Jeff Bezos breaks the world record with the "Space Penis" rocket and beats Elon Musk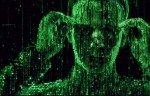 Enter the matrix
Bonkers Boffin claims there is a 50/50 chance we are in a computer simulation
EYE IN THE SKY
Spacecraft "hunt for life on Venus" after claims that clouds can hide signs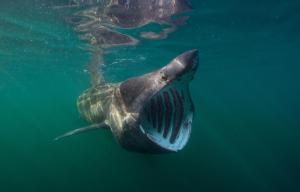 Jawsome!
These are the sharks to look out for when taking a dip in UK waters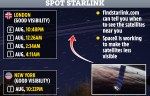 EYES TO THE SKY
You can see Elon Musk's Starlink satellite TONIGHT as 60 more launches
In other news, billionaire Tesla boss Elon Musk sends hundreds of satellites with WiFi radiation every year to build a super-fast global Internet network.
Called Starlink, the hair-raising scheme has been described as "space debris blocking the night sky".
And NASA recently unveiled a design for a lunar lander that could bring astronauts back to the lunar surface by 2024.
What do you think of the satellite puzzle? Let us know in the comments!
---
We pay for your stories! Do you have a story for the Sun Online Tech & Science team? Email us at

[email protected]
---
These were the details of the news The Chinese rocket and Russian satellite are set for the "worst... for this day. We hope that we have succeeded by giving you the full details and information. To follow all our news, you can subscribe to the alerts system or to one of our different systems to provide you with all that is new.

It is also worth noting that the original news has been published and is available at de24.news and the editorial team at AlKhaleej Today has confirmed it and it has been modified, and it may have been completely transferred or quoted from it and you can read and follow this news from its main source.