Dismayed relatives of a man who was stabbed to death by a frightened teenager after a frightened woman took refuge in his home say her family was "torn apart".
Dean Webber, then 19, stabbed 27-year-old Tom Davy and 37-year-old friend Corey Christensen after they tried to get into his home in Alva Beach, north Queensland, on October 1, 2018.
Both men died on the scene, and Mr Webber was not charged after it was believed he was acting in self-defense.
Mr. Davy's friend Candace Locke had arrived at Mr. Webber's door and asked to be let in after she dislocated her shoulder.
The two men are believed to have knocked on the door of Mr Webber's house around 12:30 p.m. looking for Ms. Locke before being fatally stabbed in a frenzied attack a moment later.
Thomas Davy (pictured) was stabbed to death on October 1, 2018 in Alva Beach in northern Queensland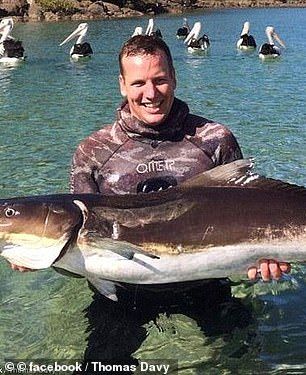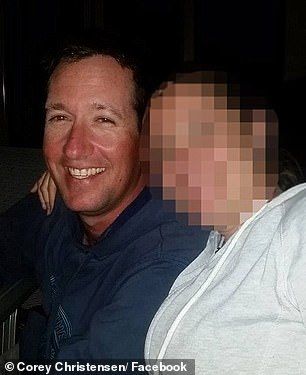 Mr Webber stabbed Corey Christensen, 37, (right) and Ms. Locke's boyfriend Tom Davy, 27 (left) after the couple tried to get into his house
A five-day investigation into the deaths was conducted this week, but Mr Webber was unable to take a stand due to his PTSD – which was a devastating blow to the Davy family.
Mr. Davy's mother, Heather, told the Townsville Bulletin that her son was "the most beautiful person" and a "gentle giant."
The aircraft engineer loved being in the water and had just moved to Queensland before he was killed.
The family had known about Mrs. Locke because the couple had been together four months ago but had never met her.
She has remained away from the family ever since.
Katie Davy, Thomas' sister, has suffered from nightmares since his death and said she lost her "other half".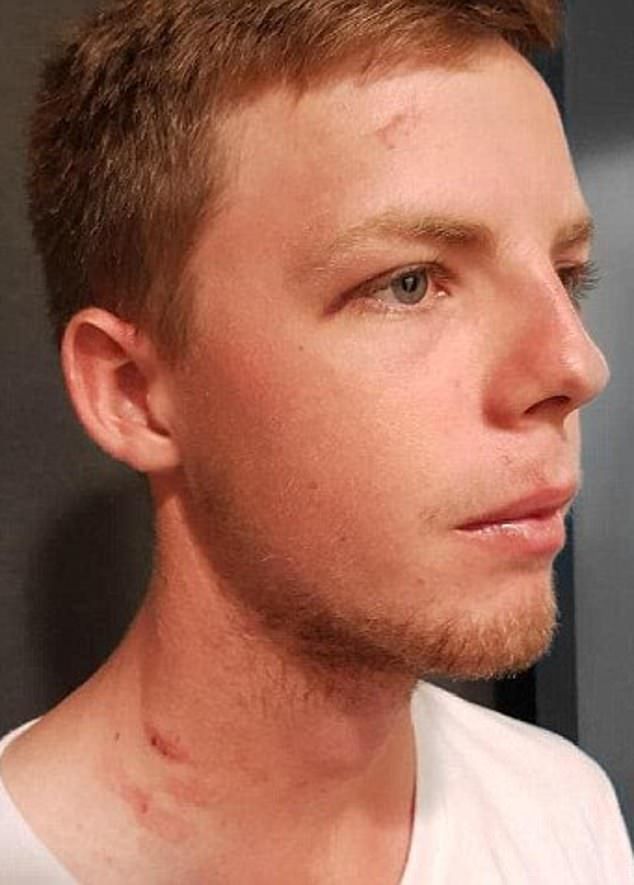 Dean Webber (pictured) made three harrowing triple zero calls the night he stabbed two men who broke into his house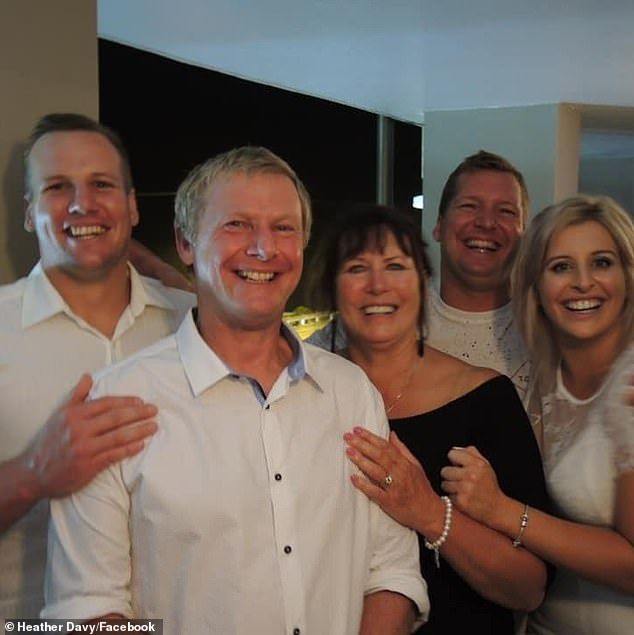 Tom Davy (pictured left with his family) had recently moved to Queensland before he was killed on the fatal night
"People say we are that strong or that brave … but we have no option. It was never our choice, "she said.
"I just said" No, no, not my Tom "."
Mr Davy's father, Neil, did not learn of his death from the police until 12 hours later when they visited him at work.
The news had spread so quickly that Ms. Davy's best friend found out on social media before they did.
The family hoped their questions about how long it took to hear of his death and why Mr. Webber was never charged would be answered during the investigation.
Upon completion of the investigation, Ms. Davy said in court that the family was still suffering.
"Our family has been torn apart and will never be the same again … our family is completely devastated," she said.
The footage of Mr Webber, who was interviewed by police on site, was played on Wednesday for investigation.
Mr Webber was seen crying as he referred his actions to Ayr CIB Detective Sergeant Gavin Neal.
He said three men entered the property.
Candace Locke (pictured) fled to Mr. Webber's home on September 30, 2018. The group of men reportedly broke into Mr. Webber's house
I remember when the first male person got the door and lifted it over the latch [someone saying] "I got you to fuck now" and just spanked myself, "claimed Mr. Webber in the video shown on request.
"I've never been so scared in my life."
Mr Webber made three agonizing calls to emergency services throughout the night, two before the deadly fight and one after, the Townsville Bulletin reported.
"I need police now, I just stabbed a guy who broke into my house," Webber told the operator at the beginning of the last call.
'You broke into my house. There is blood everywhere. I think I killed him. I was afraid for my life. The other two will kill me. '
In the background of the phone call, Ms. Locke could be heard sobbing as she informed the operator that she had been pushed out of a buggy and was running home for help.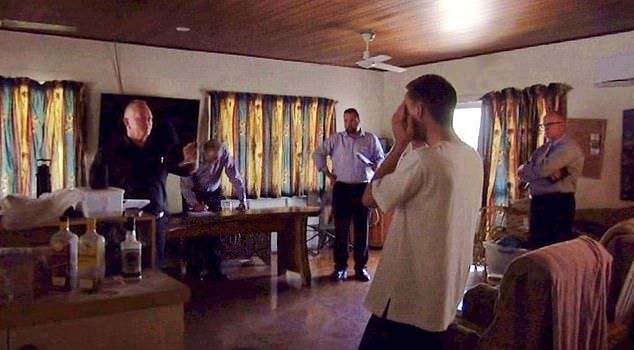 A harrowing police photo captured the moment Dean Webber reenacted how, at the age of 19, he fatally stabbed two intruders who allegedly stormed into his home in Alva Beach, northern Queensland, in 2018
Mr Webber then called the Queensland Police Department and said the men were trying to break into his house and he was harboring a desperate woman he did not know.
"You mustn't be here … you have to go now … I need the police now …" Mr. Webber was heard saying.
At 12:57 p.m., Mr Webber made his terrifying final 911 call.
"I most likely just killed a guy. I think I stabbed him in the heart. A guy dies there. I can see him out on the street. He doesn't move.
"I don't know how I'm still alive, to be honest," he told the operator.
Mr Webber said he had "done everything he could" to protect himself and that he still had the knife he used to "keep it as evidence".
SCHEDULE FOR EVENTS AT ALVA BEACH STABBINGS
June 2018:: Candice Locke (29) and Tom Davy (27) meet on a dating app. Mrs. Locke lived in Ayr, about 90 minutes south of Townsville, and he in Cairns.
30. September 2018: They met in Alva Beach, north of Queensland, for the long weekend of the NRL Grand Final.
The two went on a beach fishing trip where they met the 37-year-old father of Corey Christensen, 37.
Later that evening, Ms. Locke injured her shoulder and sought refuge from the group of men she was with at 19-year-old Dean Webber's Topton Street home.
Mr Davy, Mr Christensen, and a third man arrived at home allegedly trying to break in.
The men allegedly ripped through Mr. Webber's screen door and stormed into his house.
Mr. Webber "blindly stuck a kitchen knife in the dark" in defense, struck one man in the chest and the other in the armpit.
Mr Webber was arrested when the police were late to rescue one of the two men. However, he was released without charge when detectives decided to defend themselves.
October 13, 2020: The investigation into the death of the two men begins.
After several hours of drinking, the court heard that Ms. Locke, Mr. Davey, Mr. Christensen and a group of his friends were riding quad bikes on the beach.
Ms. Locke fell off one of the bicycles, pushed her shoulder, and sought help because she said no one took her injury seriously.
She ran away and knocked on Mr. Webber's door and asked for help at 11.30pm
Ms. Locke said the group of men tried to break into the house around 12:30 pm while yelling at Ms. Locke and Mr. Webber not to call the police.
Mr Webber called the police but was informed that there was only one officer at Ayr Station, about 20 minutes away, and was unable to come immediately due to people in custody.
Instead, Mr. Webber turned off all the lights and closed the curtains.
Ten minutes later, the men allegedly ripped open Mr. Webber's screen door and stormed into his house.
In hand-to-hand combat, Mr. Davy and Mr. Christensen were stabbed and tripped before bleeding to death in the gutter.
Mr. Webber's attorney, Harvey Walters, also filed a motion finding that he had been diagnosed with "moderate to severe" post-traumatic stress disorder based on the coronal exam.
October 14, 2020: The investigation continues and harrowing audio from Mr. Webber's three desperate triple-zero calls is released.
Mr Webber first called the Queensland Ambulance Service at 12:24 p.m. and Ms. Locke could be heard sobbing in the background. She informed the driver that she was pushed out of a buggy and ran home to help.
There was distress in Mr. Webber's voice as he revealed that the men had arrived at his property and were trying to break in.
Mr Webb then called the Queensland police and explained that the men were trying to break into his house and that he was housing a desperate woman he did not know.
At 12:57 pm, Mr Webber made his terrifying final 911 call saying he had "just killed a guy" and that it was "blood all over the place".
The court also heard of a passage Detective Sergeant Gavin Neal made on Topton Street with Mr. Webber and Mr. Bengoa, one of the men in the group, after the knife wounds.
Mr Webber told the detective that he was "afraid for his life".
October 15, 2020:
Dean Webber's doctor Michael Likely said Mr Webber developed PTSD from the coronial exam.
Assistant Coroner Jane Bentley ruled that Mr Webber should not take a position and testify in writing instead.
Mr. Webber must provide written responses to questions from the parties within 72 hours.
Emotional pictures and videos have been posted of Mr. Webber taking a tour of the crime scene with Ayr CIB Detective Sergeant Gavin Neal.
These were the details of the news The family of Thomas Davy, stabbed by Dean Webber, speak up... for this day. We hope that we have succeeded by giving you the full details and information. To follow all our news, you can subscribe to the alerts system or to one of our different systems to provide you with all that is new.

It is also worth noting that the original news has been published and is available at de24.news and the editorial team at AlKhaleej Today has confirmed it and it has been modified, and it may have been completely transferred or quoted from it and you can read and follow this news from its main source.