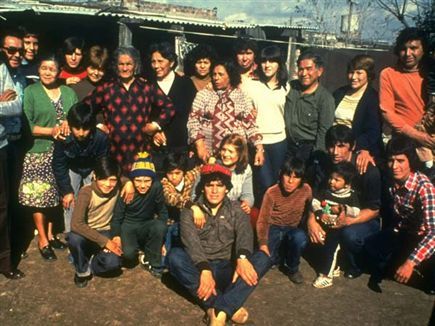 Diego Armando Maradona He passed away last night (Wednesday) and is only 60 years old. But in his 60 years of life he has accomplished what 100 ordinary people were not enough to do in 100 years of life. The story of Diego Maradona's life is the craziest, juiciest and most outrageous telenovela imaginable. A disturbing and unfounded telenovela that even the biggest studios in Argentina could not film and shoot. So after everyone has had time to tell and recreate the great moments of Maradona, the footballer and man, over the last 24 hours, here are some of the lesser known stories of the myth that has skyrocketed.
1
His name first appeared in the media on September 28, 1971 when he was 10. In the sports section of "Clarin" it is written that there is a little boy who bounces the ball in the half of the Argentinos Juniors games and entertains the fans. The reporter erred in the name of the talented boy so in his first media mention he was called "Diego Caradona".
2
When Francisco Cornejo, coach of Los Savojitas ("Little Onions"), the mythical children's team that broke all records in late 1960s Argentina, saw him for the first time, he could not believe he was 6. Cornho was sure it was a dwarf.
3
His first television interview was at the age of 10 with Pippo Mansera, who was Argentina's biggest TV star in the 1970s. Mansera had to pass time because a band that had to get to the broadcast was late, so Diego bounced the ball live for about 40 minutes non-stop.
4
In 1973 the great Argentine sports magazine "El Grafico" published a two-page article on the "Los Savozitas" phenomenon and under a picture of Diego Maradona it was written: "At the age of 12 he knows everything".
5
On October 20, 1976, Maradona's debut in the league, Argentinos Juniors hosts the Tagers Cordoba. Diego wore the number 16 shirt. It was 10 days before his 16th birthday. Many years later Sergio "Con" Aguero will break the record of the youngest player in the history of the Argentine league, in the Independiente uniform. Aguero would marry Janina, Maradona's daughter, years later, and the two would give birth to a son named Nachman. "Benacha" is Diego's first grandson.
6
A few minutes after coming on as a substitute Diego passed the ball between the legs of Juan Domingo Cabrera, who himself went down in history and was interviewed about it 30 years later.
7
With the first salary he earned after signing a professional contract, Diego invited his mother, Donia Tota, for pizza. They went to the modest pizzeria "La Rumba", in Nueva Pompeo. Years later Diego tried to purchase the pizzeria. The owners refused.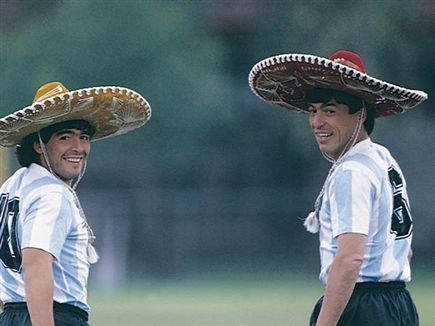 8
His first agent was Jorge Citerspiller, a crippled, lame Jewish fellow who was a childhood friend of his. Sisterfiller became his personal manager in 1977. He also founded Maradona Productions. In 1985 Diego left him and became a friend of Guillermo Coppola.
9
Sisterfiller died at the age of 58, about five years ago, when he fell to seventh place in Buenos Aires. He did a lot for Diego but failed in one task: convincing Princess Caroline of Monaco to spend a night with Diego.
10
In 1978 Sheffield United from the English Premier League tried to acquire Maradona. Everything was ready, contract, flight tickets. Finally Argentinos Juniors regretted it. In his place Sheffield acquired Alejandro Sabella, who many years later became the coach of the Argentina national team.
11
On 19 May 1978, Cesar Luis Manotti decided to keep Diego out of Argentina's squad for the World Cup. It was one of the hardest moments of his career. If he had played he could have recreated Pele's achievement and won the World Cup 20 years later at the age of 17 and a half.
12
48 hours after the blow he received from Manotti Diego went up to play against Chakrita Juniors, scored a double at 0-5 and said: "That day I discovered that rage is my fuel."
13
A year after the World Cup Diego led the youth team to win the Youth World Cup in Japan. He starred alongside Ramon Diaz, a River Plate star. Argentina defeated the USSR, headed by Victor Chanov, the future Maccabi Haifa goalkeeper. Chanov is also no longer alive.
14
The relationship with Ramon Diaz, the star of River Plate at the time, has always been cool. He later had a cold relationship with Daniel Pasarella, another River star and icon. Diego's last game of his career was the Superclassico in which his Boca defeated River 1: 2 in a monumental one with a winning goal from Martin Palermo. Before the game started, Diego went to shake Ramon Diaz's hand.
15
Ramon Diaz played for the team until 1982, and no more because Diego vetoed it, even though he was a formidable scorer in his various teams. Diego denied this in his book "Yo Sui El Diego" and claimed that he told Billardo to summon him to the 1986 and 1990 World Cups. Pasarella, the captain of the 1978 World Cup, was on the squad for the 1986 World Cup and was in top form, but did not play a minute, claiming he was injured …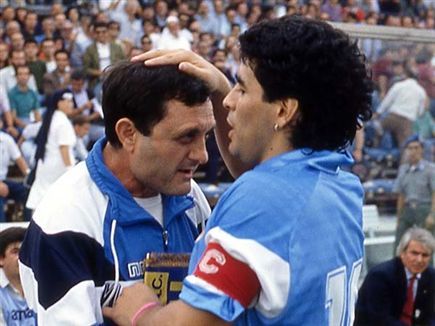 16
On November 9, 1979, legendary goalkeeper Hugo "El Loco" Gatty said of Diego that he was "Gordito", meaning chubby, a few days before the game between Boca and Argentinos. Diego's reaction: He scored a quartet, in a 5: 5 victory for Argentinos. They then became friends and together won the 1982 Argentine Championship.
17
In February 1981 Diego wanted to leave Argentinos and then an offer came from River Plate. But Maradona, a die-hard Boca fan, was not suited to play in the hated River uniform. He spoke to a journalist from the "Kronika" newspaper and asked him for a favor: to write that he had received an offer from Boca and that he was about to sign. When the news item was published under the headline "Maradona to Boca", Boca heads could not stop the tsunami. They loaned him $ 2.5 million a year, and in addition transferred four players to Argentinos and two more on loan.
18
Boca won the championship in 1982, Maradona's only championship in Argentina, but almost went bankrupt before selling it to Barcelona that year for $ 7.5 million, then a world record.
19
Maradona's difficult moment in two years at Barcelona: the moment when Andoni Goikochea, "the butcher from Bilbao", almost ended his career, after a cruel tackle. At first there was a fear that Diego had finished his career, finally he returned after three months.
20
Maradona's last match in the Barcelona uniform was the Copa del Rey final against Javier Clemente and Andoni Goikucca. After the 1-0 loss, a crazy riot broke out on the lawn, in front of 100,000 spectators at the Bernabeu and King Juan Carlos. Diego claimed the reason for the rampage was that some Bilbao fans and some of the players teased him with racist chants.
21
Maradona scored 38 goals in 58 games for Barcelona over the two years. Cesar Luis Manotti was his coach at Barça, which won the Spanish Cup and League Cup in 1983.
22
Maradona was the first Barça player to be greeted by Real Madrid fans at the Bernabeu. That was after scoring a spectacular goal at the Super Cup. He passed the goalkeeper and the brake, which got stuck in the beam.
23
July 5, 1984, Maradona moves to Naples for $ 10.5 million, a world record at the time. 70,000 enthusiastic spectators came to San Paolo Stadium for its performance ceremony. Yesterday the Napoli management announced that the new name of the stadium would be "Stadium Diego Maradona".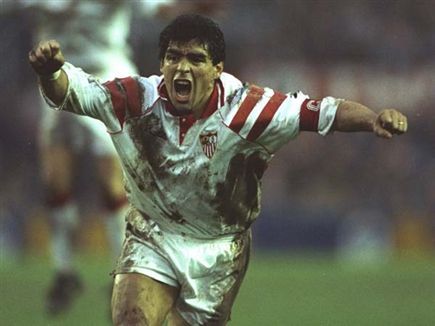 24
Before every game of Naples, Diego would kiss the head of the masseur, Salvatore Carmando. He took it as a mascot for the World Cups in Mexico, Italy and the USA. The guy retired in 2015 and released a biography called: "A Hand on God".
25
For almost 30 years he held Maradona's record for goals in Naples. It was broken first by the Slovak Mark Hamshik and then by the Belgian Driss Martens. Diego congratulated the two on their accomplishments.
26
The shirt with which Maradona scored his two goals against England was replaced with Steve Hodge, who published a book called "The Man in the Shirt". He had several offers to sell it, but he eventually moved it to the Manchester Football Museum.
27
Diego's first encounter with Fidel Castro in Cuba was in 1987. He traveled to Havana with the whole family. Fidel was an avid baseball fan, also a not bad player, but realized he needed to connect to Diego's popular and simple side. They have met six times over the years.
28
Diego tattooed on his body the figure of Fidel and Che Guevara, the Argentine revolutionary, and dedicated his biography, among other things, "to Fidel Castro and through him to the entire Cuban people."
29
On November 7, 1989, Diego and Claudia's wedding took place at the Amusement Park in Buenos Aires. 1,200 guests were invited to the event, hundreds came from Europe. It was the largest wedding held in Argentina in the 20th century.
30
Maradona said that during the time he played for Napoli he had an offer from Marseille. Bernard Taffy, the legendary Marseille president, offered him a double salary. But Corrado Perlaino, the president of Naples, refused.
31
Diego played for Sevilla for one year, the 1992-3 season, after finishing his first suspension. He came to Sevilla mainly thanks to Carlos Billardo, who was his national team coach. He collaborated in Sevilla with the young Diego "Cello" Simeone and with the Croatian striker Davor Shuker. During that season Maradona scored 8 goals.
32
In his last game in the Sevilla uniform, against Burgos, Billardo replaced him eight minutes from the start of the second half. Diego was furious, tossed the captain's ribbon, cursed at Billardo and broke the locker room. After a few days they reconciled.
33
On October 7, 1993, Diego made his Newell's Old Boys uniform in Rosario, against Amalek of Ecuador. It was a friendly match in which he scored a goal in a 0: 1 victory. In the stands sat a 6-year-old boy, a burnt fan, Lionel Messi by name. The brief affair with Newell lasted five games, and no goals.
34
After the 5: 0 defeat against Colombia in the 1993 World Cup qualifiers, Diego was returned to the squad for the pair of playoff games against Australia. In the closing minutes, as Argentina suffered the heaviest home loss in its history, the crowd at the monumental began to shout "Diego, Diego."
35
In the run-up to the 1994 World Cup in the United States, Diego went to a private training camp with his personal trainer, Fernando Signorini, known as "El Saigo" (the Blind). They went to the Pampas Guaranty, far from everyone. As they entered the small lodge Diego asked, "Where did you bring me?" There's no TV in the room! " Signorini He replied, "I brought you to Viza Purito (the neighborhood where Maradona grew up)."
36
Sue Allen Carpenter This is the smiling American sister who took Diego by the hand for drug testing after the game against Nigeria in the 1994 World Cup. Her boyfriend at the time was Argentine. Today she works as a fertility expert in Atlanta.
37
After another suspension Maradona returned in 1995 to his beloved Boca Juniors, when he was already 35. He dyed his hair yellow, also in protest against his great rival Daniel Pasarella, who was then the national team coach and ordered players like Radondo to get a haircut.
38
His last game of his career was Boca Juniors' Superclassico against River Plate at Monumental. It was October 25, 1995, five days before his 37th birthday. Boca won 1: 2 from a goal by Martin Palermo. Before the game there was a cool handshake to River coach Ramon Diaz. Half of Maradona was replaced by the young Juan Roman Riquelme, who is considered by many Boca fans to be his successor.
39
In "Caminito", the picturesque and colorful street in the neighborhood of La Boca, not far from the Bombonera, the home stadium of Boca, there are three statues, of the three most beloved icons of the Argentine people tango singer Carlos Gardel, Evita Peron and Diego Maradona. There probably won't be a similar statue of Messi …
40
Since 1994 Diego has tried his luck as a coach. He coached Deportivo Mendijo 12 games, Racing Club 11 games. He has coached Al Wasel and Fujira in the UAE, Dorados in Mexico (38 games), and since September 2019 has coached the Racing Club. He coached the Argentina national team between November 2008 and July 2010, promoted the team to the World Cup in South Africa and finished after a 4-0 defeat to Germany. In 24 games with him the team won by 18.
Did you find a mistake?
These were the details of the news When 6-year-old Messi cheered Maradona from the stands for this day. We hope that we have succeeded by giving you the full details and information. To follow all our news, you can subscribe to the alerts system or to one of our different systems to provide you with all that is new.

It is also worth noting that the original news has been published and is available at news1.news and the editorial team at AlKhaleej Today has confirmed it and it has been modified, and it may have been completely transferred or quoted from it and you can read and follow this news from its main source.