Thank you for reading the news about Huawei P Series: acclaimed smartphone photography powerhouse yet continually progressing. and now with the details
Aden - Yasmine El Tohamy - Among the world's top three mobile phone makers, Huawei has gained immense popularity owing to its smartphones' sleek designs, reliability, and excellent camera quality. The tech giant's smartphone journey with Android began with the Huawei U8220 smartphone in 2009. It marked the beginning of a revolution, destined to change the future of smartphones forever. This was the first surefooted step to make mobile devices, laced with high-end features, accessible to the common man. 
With a sizeable chunk of its revenue being utilised in research and development, Huawei produces world-class products that cater to the needs of next-gen buyers. And one of the primary needs of young buyers is smartphones with great photo capturing abilities. As a customer-oriented company, Huawei has put special focus on upgrading its camera tech with new options and enhanced picture quality. In fact, it has gone the distance to democratise high-end photography with its aggressively priced and feature-rich smartphones. 
Huawei believes in improving current technology and leading the industry to set new benchmarks. This is precisely what it has done in the phone camera space through constant innovations and strategic tie-ups.
Huawei has established 16 R&D centres, 31 joint innovation centres and 45 training centres across the globe reiterating its objective. It is no wonder then that it was ranked among BrandZ's Top 100 Most Valuable Global Brands in 2019 and featured in the list of Forbes' World's Most Valuable Brands in 2018.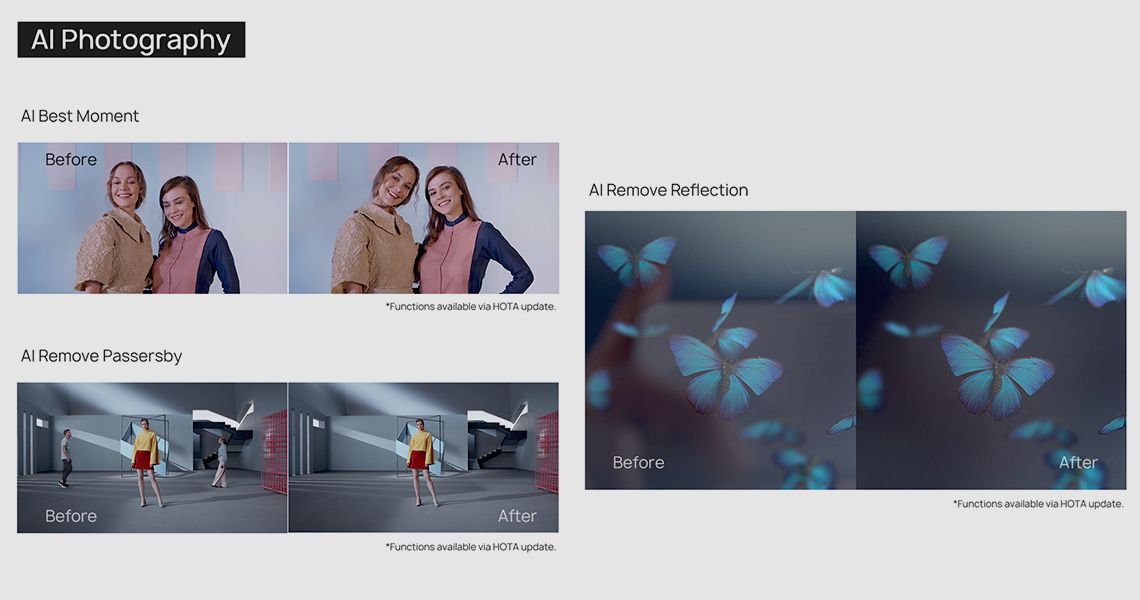 Photography as an art form? 
Today, photography is more than just taking pictures to freeze moments. It is the ability to visualise; to tell a story through pictures. The gift of having sharp observation skills on what something would look like after snapping it, is a trait that separates an expert from an amateur. Moreover, a photographer needs to learn how to use the available technical tools to execute his or her vision.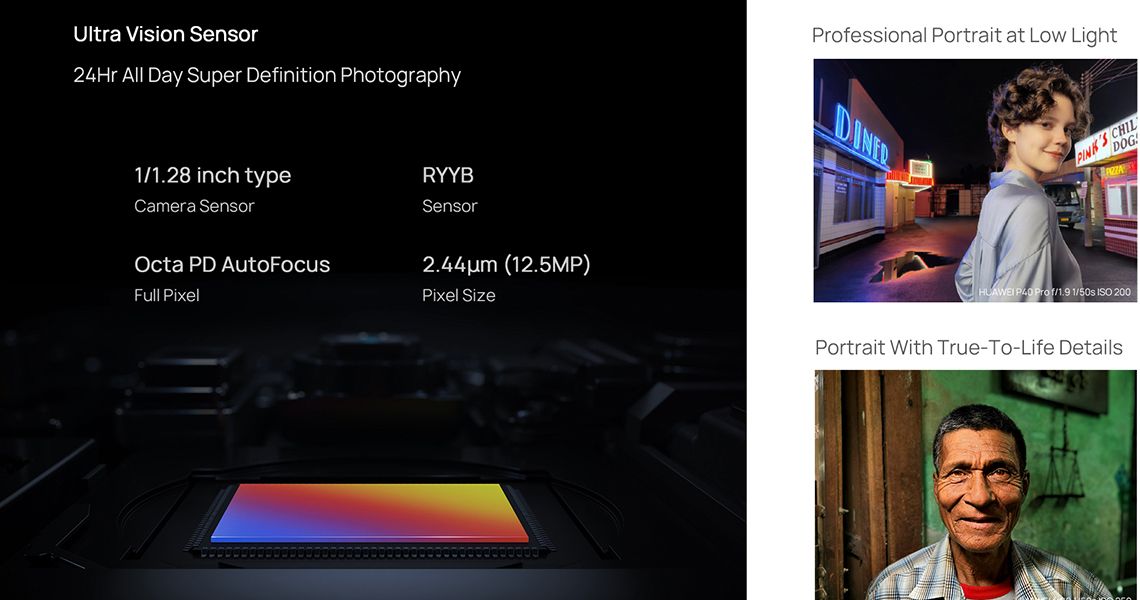 Two decades ago, the functionalities of a regular camera were not as easy to understand as it is today. However, the advent of technology and focus on making complex operations user-friendly has made photography accessible to everyone. The ability to capture photographs has travelled from heavy, jumbo-sized cameras from the past to lightweight smartphone cameras of the present. Take the Huawei P Series, for instance. Each smartphone model in this Series has introduced beautifying camera tools such as autofocus, wide-angle option, hybrid zoom, OIS (Optical Image Stabilization) and pixel binning, among others. These have all helped turn ordinary images into something artistic. It is for this reason that Huawei smartphones are the ideal option for people interested in high-end smartphone photography. 
Before the camera, all are equal? 
Snapping a photo is not an art but capturing the right moment is, and vision plays a key role here. A flower shot by two different cameras will provide the same output, i.e. a picture. To distinguish between the two, the photographer must have the vision and tools to turn it into something special. A play on the way light hits the subject, or how an object is viewed, or even the sharp contrast of colour that lends a dramatic effect to the picture are elements that give simple photographs an edge of artistry.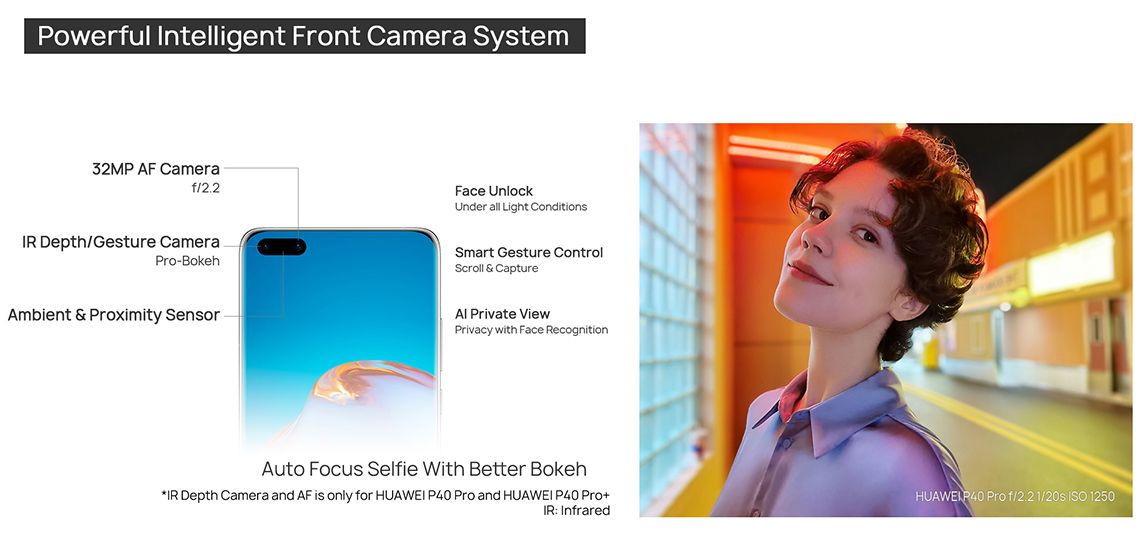 Until a few years ago, DSLRs were the preferred camera type for photography enthusiasts as they offered high-quality images. This has changed as smartphones are being developed with advance features that could render DSLRs irrelevant to the casual user. Additionally, smartphones like those from the Huawei P Series, have in-built photo editing capabilities that can be used instantly; unlike the complex editing software and tools that are needed for DSLR pictures. 
Smartphones also offer the advantages of accessibility and portability, not to mention they are easier to use and far more affordable. In an age where social media and image and video sharing are all the rage, smartphones with high-end camera technology have a clear edge over the DSLRs. 
Huawei and Leica partnership: Creating the P Series for high-end photography? 
Huawei has been continuously investing in its research & development division along with strategic partnerships, which help bring the best camera tech to the table. With the launch of the P Series smartphones, Huawei tried to fill the void of affordable smartphones with quality cameras. The journey towards high-end photography began in 2012 with the launch of the slim yet powerful Huawei Ascend P1. After a series of Ascend phones, the brand stuck gold when it entered into a strategic tie-up with the German lens giant, Leica Camera and released the first P Series phone with the Leica badge - the Huawei P9 in 2016. 
The Huawei P9 not only marked a new beginning in the Chinese firm's history but also ascertained the competition that the brand is here to stay. It was among the first phones to bear dual rear cameras along with stunning photography options. It offered monochrome photos and an array of field effects via simulated aperture tunings. The partnership continues to churn out new phones in the P Series with a special focus on high-end photography. Till date, the alliance has P9 Series (2016), P10 Series (2017), P20 Series (2018), P30 Series (2019) and P40 Series (2020) under its belt. 
Milestones in the evolution of the P Series? 
In the past nine years, the Huawei P Series has evolved drastically. With every smartphone released under this Series, the technology it uses has taken a leap forward. Here's a look at how the P series evolved over time. 
Huawei Ascend P1 (2012)- It was the company's first significant step towards building capable smartphones. With an 8MP rear camera, it had a decent 4.3-inch 960 x 540 OLED screen. Slim proportions and aggressive pricing were other key selling points. 
Huawei Ascend P6 (2013)-At a time when the industry offered 2MP shooters, Huawei raised the bar by offering a 5MP selfie camera with beautification effects. The phone designs were also getting better with the P6 Series. 
Huawei Ascend P7 (2014)-With the brand continuing to focus on selfie cameras, the P7 got an 8MP camera with panoramic selfie mode. And it was this model that offered a sneak peek into future Huawei designs. 
Huawei P8 (2015)-The P8 saw a scale in aesthetic appeal, along with Huawei's technological prowess. Its 13MP OIS camera churned Light Painting shots by using RGBW colour filter juxtaposed to the use of traditional RGB (red, blue, green) sensor. 
Huawei P9 Series (2016)-Making photography its prime arsenal, Huawei released the P9 with Leica lenses. It featured dual rear cameras with 12MP+12MP monochrome arrangement. With simulated aperture adjustments, the P9 turned out to be a game-changer for the Chinese behemoth. 
Huawei P10 Series (2017)-A capable camera phone, the P10 Series was able to shoot 20MP shots despite no change in its 12MP setup. This was made possible through its optical image stabilisation and added resolution. A software-based portrait mode was also offered in its selfie cameras- a feature unheard of in 2017. 
Huawei P20 Series (2018)-Besides a fantastic jump in performance and use of machine learning, the P20 also took photography experience to an all-new level. The P20 Pro featured a first-ever triple rear camera smartphone with 40MP primary snapper, 20MP monochrome sensor and 8MP 3X telephoto camera. The 5X hybrid zoom and fantastic night mode were other aces it included. 
Huawei P30 Series (2019)-The P30 Pro offered 5X periscope zoom camera for the first time. With 40MP of primary camera, the P30 Pro used RYYB (red, yellow, blue) filter instead of the RGB to produce high-quality images in low lights. 
Huawei P40 Series (2020)- With 5Gconnectivity, the latest P40 Series makes photography an integral part of the P Series. It gets ground-breaking Ultra Vision Leica camera with a triple- quad- and Penta-camera configurations.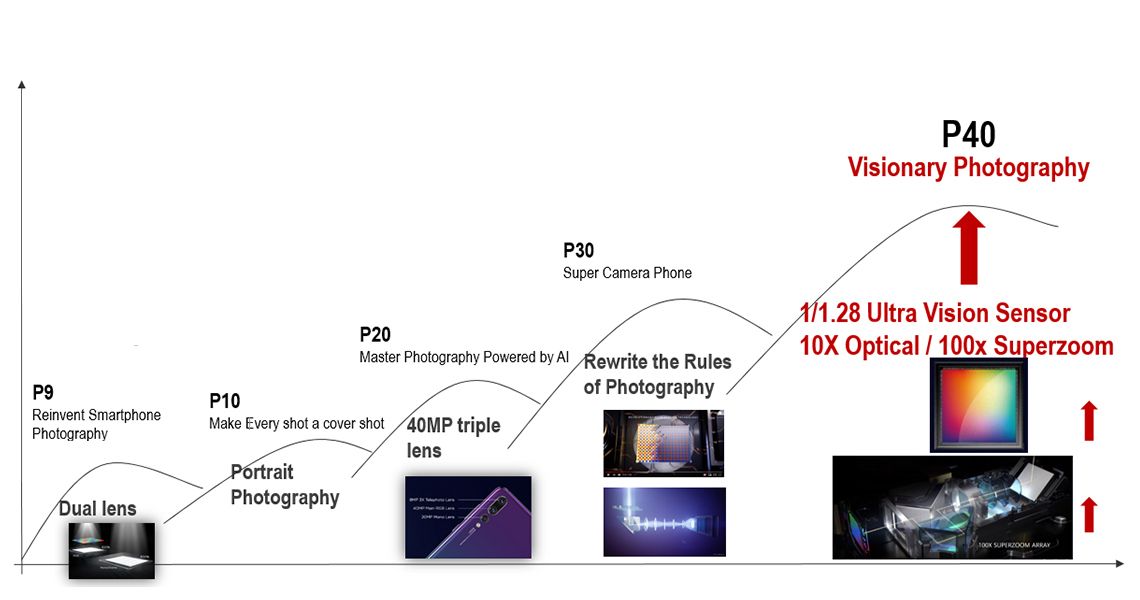 A highly regarded smartphone series 
Since being in operation, the Huawei P Series of smartphones has either met or exceeded buyer expectations. Right from its first P series phone to the latest P40, the surging sales charts and the growing number of repeat buyers are a testimony of the brand's technological prowess. Its popularity can be gauged by the P30's record global sales of over 16.5 million till September 2019- in just six months! 
P40 Series: Ushering in the age of Super Sensing smartphone photography 
The innovation in photography continues in the P40 Series with the inclusion of Super Sensing smartphone technology. The flagship uses the similar RYYB sensor as P30, but with the largest size, Huawei has ever used - 1/1.28-inch. The standard P40 model gets ultra-wide angle, wide-angle and telephoto lenses, whereas the Pro is topped with the evolved version of Leica Quad Camera with Ultra-Wide Cine Camera and ToF snapper. 
With the pixel binning feature (combines four pixels into one super pixel), the prime sensor can deliver exceptional results in low light with the same 12MP camera. Debuting with the latest P series, the XD Fusion Engine is an AI-enabled programme that aids in the removal of unwanted elements from the image, including reflections, without impacting picture quality. 
The 32MP AF camera and IR Depth snapper in the P40 Pro and Pro+ are armed with the soothing bokeh effects and autofocus. A Full Pixel Octa PD AutoFocus with high-speed focus, in day or night, further helps to capture pictures with precision. The Golden Snap feature gives you the power of choosing the perfect frame from a moving image. 
Meanwhile, the 40MP Ultra-Wide Cine Camera gets an aspect ratio of 3:2 with its 1/1.54-inch sensor. The SedecimPixel Fusion technology in P40 Pro and Pro+ stunningly combines 16 pixels into 1 super pixel boosting light sensitivity to a great degree! 
With the many features that the P40 boasts of, there is no doubt that it is the best yet in a continually evolving Series. But there seems to be more to come from the brand. In an interview, Peter Gauden, Global Senior Product Marketing Manager of Huawei Technologies offers an insight into what makes the P40 stand out and what to expect from Huawei in the future.
1. With fantastic sales of the P30, do you believe the P40 will be able to repeat the popularity of its predecessor? If yes, which features will be its USPs?
At Huawei, we continue to focus on developing innovative technology every year. The HUAWEI P40 Series continues the series' heritage of imaging excellence featuring cutting-edge designs with ground-breaking camera innovations that radically expand mobile photography and video capture possibilities.
With the success of the P30 last year, we anticipate a similar trend with the HUAWEI P40 given that is built addressing the users demands, especially on the camera. The features that stand out the most are the following USPs:
Leica Quad Camera - The HUAWEI P40 Pro delivers outstanding photography with a 50MP Ultra Vision Leica Quad Camera and a HUAWEI Ultra vision sensor; it also comes with a 1/1.28-inch CMOS sensor that can capture more light than ever before.
The Camera setup also includes a 40MP Ultra Wide Cine Camera for recording clips in 4K quality and ToF camera for taking stunning photos with bokeh effects, while the 50x Super Sensing Zoom will bring objects closer, with 5x optical zoom, 10x hybrid zoom and 50x digital zoom.
50x SuperSensing Zoom - With 50x SuperZoom in the phone's camera, even the furthest of objects are near. Meanwhile, 5x optical zoom, 10x hybrid zoom and 50x digital zoom along with AIS and OIS stabilization features, ensure you don't have to worry about any kind of blur or shaking while zooming.
HUAWEI XD Fusion Engine - The XD Fusion Engine is part of the powerful software system behind producing images with utmost clarity, through high-level semantic analysis on multiple RAW frames captured on multiple cameras, pixel-level image processing achieves photographs of unprecedented detail. Leveraging the Da Vinci-based NPU inside Kirin 990, the XD Fusion Engine deconstructs the high-fidelity images into Scenarios, Biological Information, Body Mask, Skin Mask, Face Parsing and Face Landmark layers enabling the pixel-level imaging processing to generate photographs of exceptional quality for the end-user.
HUAWEI Golden Snap - The HUAWEI Golden Snap is a new Gallery feature that picks the best shot by using AI algorithms to pick postures and expressions that look good and select the top three frames for the users and removing unwanted glares and passers-by in the photos.
Unprecedented design - From the display to its overall body, the smartphone is equipped with the industry's first quad-curve display: HUAWEI Quad-curve Overflow Display. Inspired by the art of motion, the display takes on a curved edge on all four sides, creating a shape that is reminiscent of water on the cusp of overflowing from the rim of a filled cup.
2. What will your future products be down the line?
Huawei has built a reputation among consumers and within the technology industry as a company that has always delivered new improved and innovative products.
Huawei is also fully committed to the All-scenario Seamless AI Life strategy. The '1+8+N' all-scenario hardware ecosystem and the all-scenario service ecosystem not only established a standard for user privacy and security but also delivers an exceptionally high-quality experience to consumers around the world allowing better interconnectivity between intelligent devices for unrivalled user experience.
3. Huawei says it will invest $1.5 billion in its developer program, what is the vision?
Huawei invites global developers to join hands in building an innovative smart app ecosystem.
Huawei has established a US$1 billion developer incentive program, the Shining-Star Program, which, in combination with the other service and incentive initiatives interspersed throughout the app lifecycle, empower developers with the necessary support to pursue daring innovations.
Huawei's vision is to make HUAWEI AppGallery an open, innovative app distribution platform that is accessible to consumers. Thanks to a vast and growing library that includes the most popular global apps, it has quickly become one of the top 3 biggest app marketplaces in the world. It is now available in over 170 countries and regions with 400 million active monthly users.
4. Has there been a dip in demands due to the COVID-19 pandemic? Do you believe that it may affect in your R&D and 2020 plans?
Challenges are what drive Huawei to keep moving forward.
Last year, our sales revenue increased by nearly 20%, and we also saw a significant rise in our profits. This shows that customer trust was not affected.
As for this year, we expect some growth over what we saw last year. We also plan to spend 5.8 billion US dollars more on R&D. In 2019, we spent around 15 billion US dollars on R&D, and this year's spending is expected to exceed 20 billion. We are becoming more capable of overcoming difficulties, and the difficulties and challenges we face will become less and less. So, we are confident that we will achieve our sales and profit goals this year.
These were the details of the news Huawei P Series: acclaimed smartphone photography powerhouse yet continually progressing. for this day. We hope that we have succeeded by giving you the full details and information. To follow all our news, you can subscribe to the alerts system or to one of our different systems to provide you with all that is new.

It is also worth noting that the original news has been published and is available at Khaleej Times and the editorial team at AlKhaleej Today has confirmed it and it has been modified, and it may have been completely transferred or quoted from it and you can read and follow this news from its main source.