Thank you for reading the news about REVIEW: Apple Watch Series 6 and now with the details
Aden - Yasmine El Tohamy - Remember this ?
Well, Apple's always been serious about their stuff from the beginning. Sometimes perceived bluster can overshadow the real deal, so it's important to walk the talk.
And never mind if we weren't treated to the new iPhone just yet. Apple served up an appetiser with Watch Series 6, its most advanced and really health-conscious wearable to date. Time to watch and learn (pun definitely intended).
TALE OF THE TAPE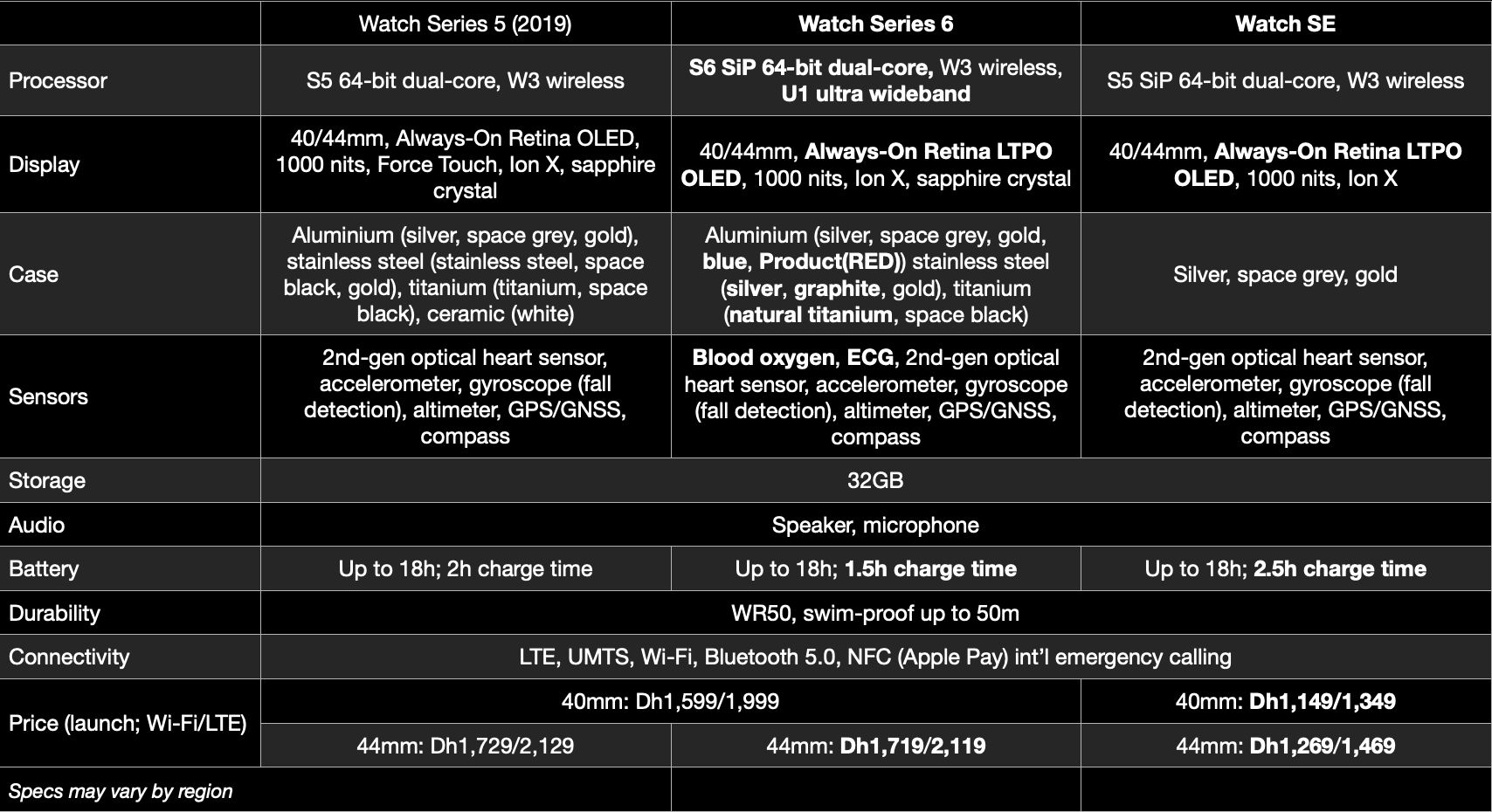 Well, in case you missed it, Apple also dropped a new version, Watch Series SE. As you may notice with its suffix, it's a nod to their more affordable line-up; while toned-down in terms of some features, it still packs the good ones.
And I'd say this: The Apple Watch has morphed into something so feature-rich that it can rival the length of reviews for an iPhone.
FORM
Practically the same dimensions as Series 5, Watch Series 6 banks on what's inside. We'll get to that later.
Ceramic's gone, but Apple expanded options to 11 colours across three different materials - brushed titanium, polished stainless steel and 100 per cent recycled aluminium. At the unveil, Product(RED) immediately caught our eye, but upon closer inspection, that blue finish seems way cooler (we figured that it could be tricky to match bands with the former). Also remember, a portion of Product(RED) purchases at Apple translates into funding for HIV/AIDS programmes in sub-Saharan Africa. 
And on a pound-for-pound basis, Series 6 is slimmer and lighter compared to its predecessor by a hairline (figuratively). Force Touch has been removed from it as well, which could be a possible reason Apple was able to slim down Series 6.
Heck, even the box has been considerably slimmed down from all the previous series: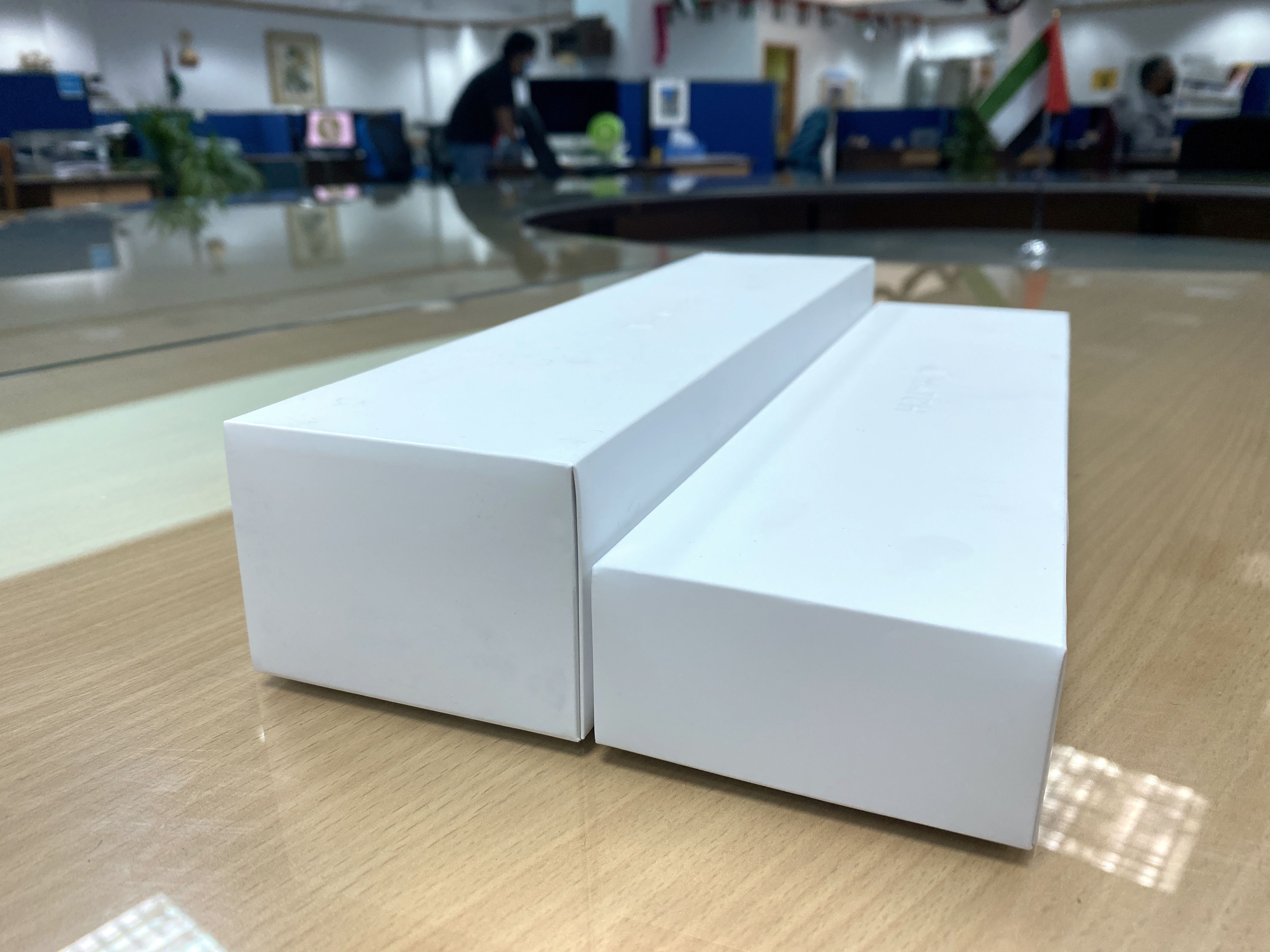 But even so, you still get the same presentation that started with Series 4, with all the goodies inside: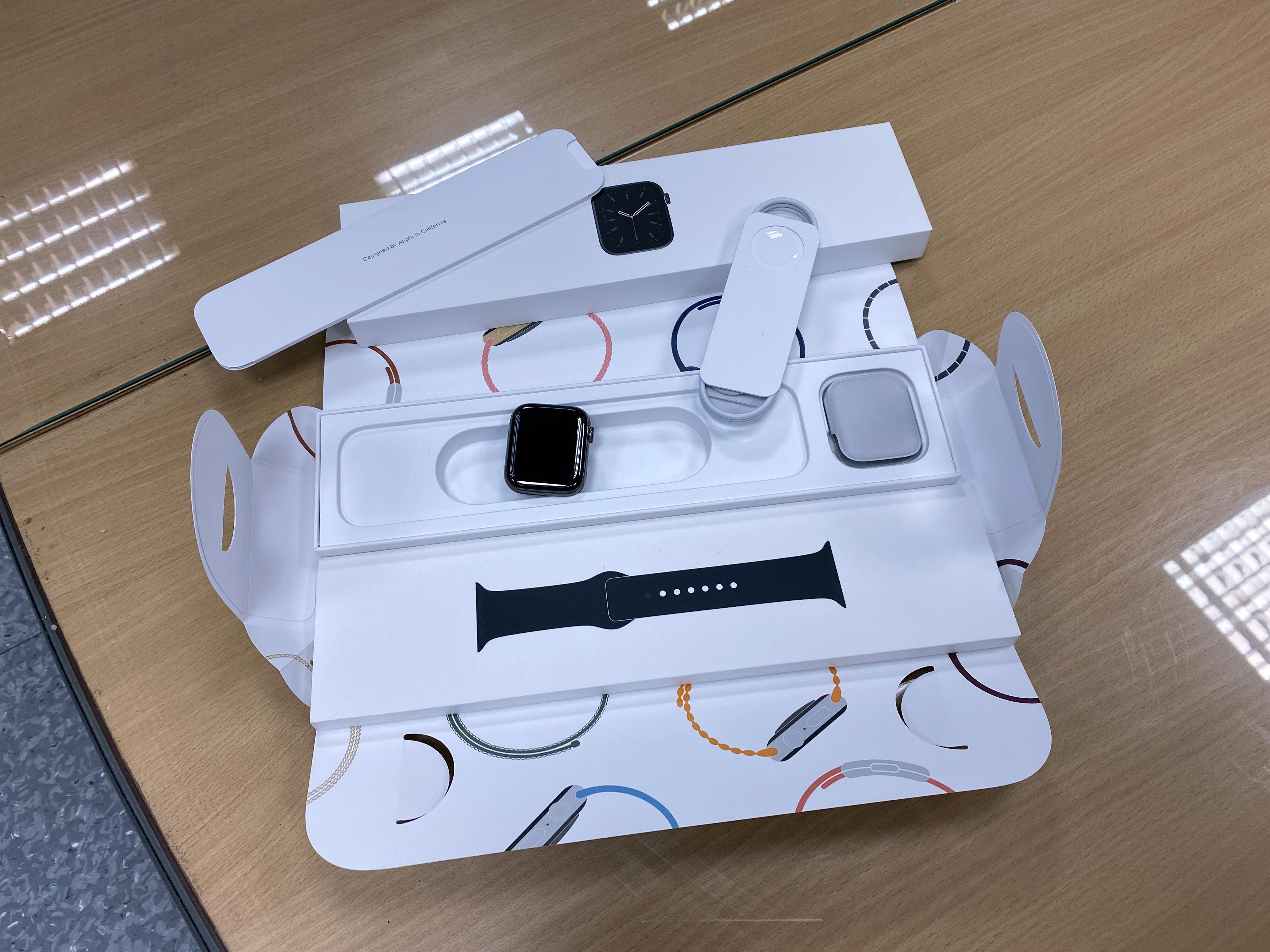 The sensors on the rear, meanwhile, have been reshaped to circles from the previous rectangular ones. Aesthetics aside, they're a very productive upgrade, as you'll find out later.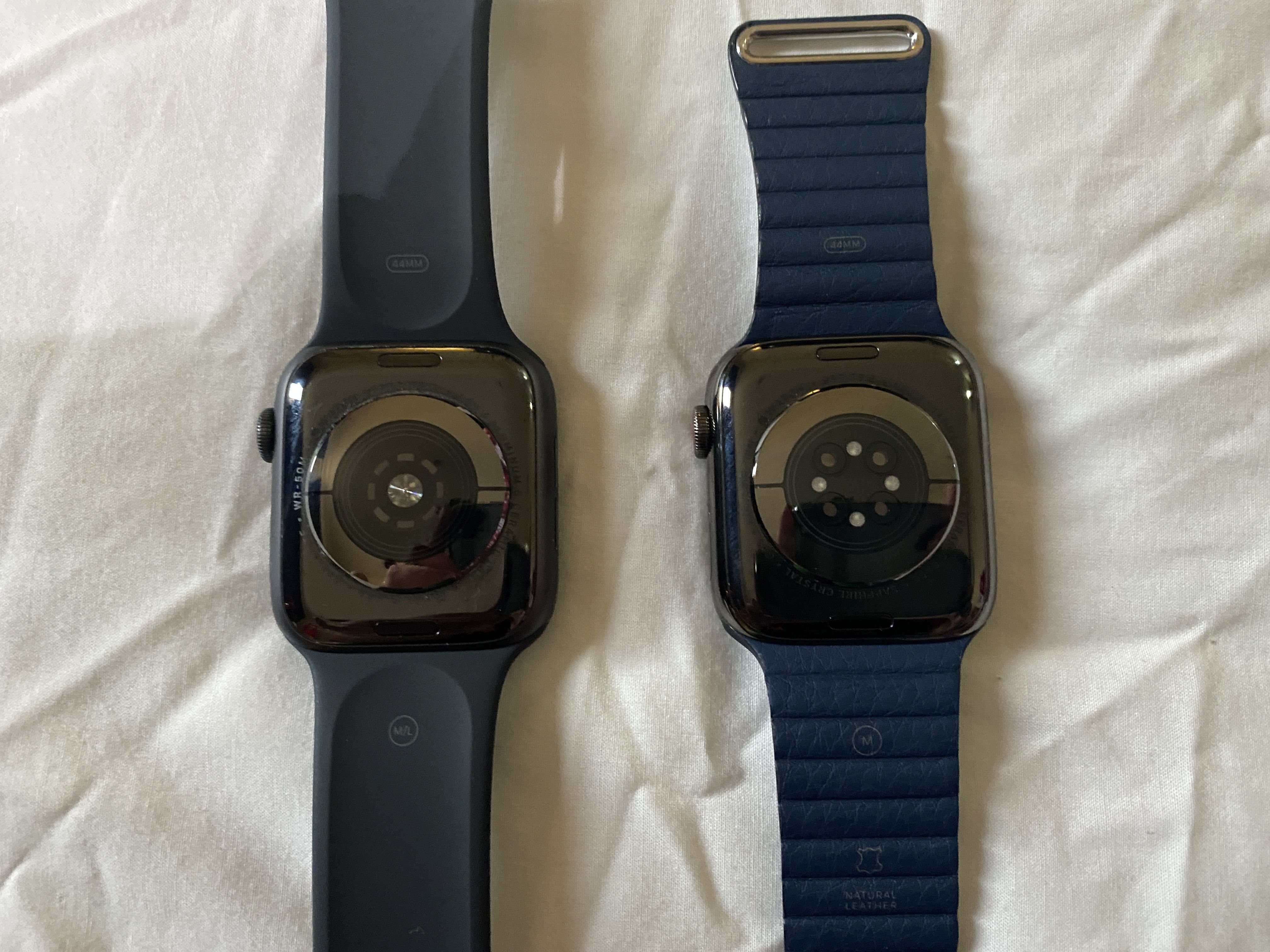 And an Apple Watch's form isn't complete without its army of bands. And there's a new addition to it: Solo loop, a one-piece band in which all you need to do is slip your hand into - no need to buckle or strap it up. 
Solo bands are made from two types of materials: Liquid silicone rubber, an ultraviolet-treated band that creates a silky feel on your skin, and braided, a water-resistant one made up of over 16,000 filaments of 100 per cent recycled yarn. Both stretch out easily, and there are nine sizes for each so you'll definitely be able to find your fit.
See how they stack up: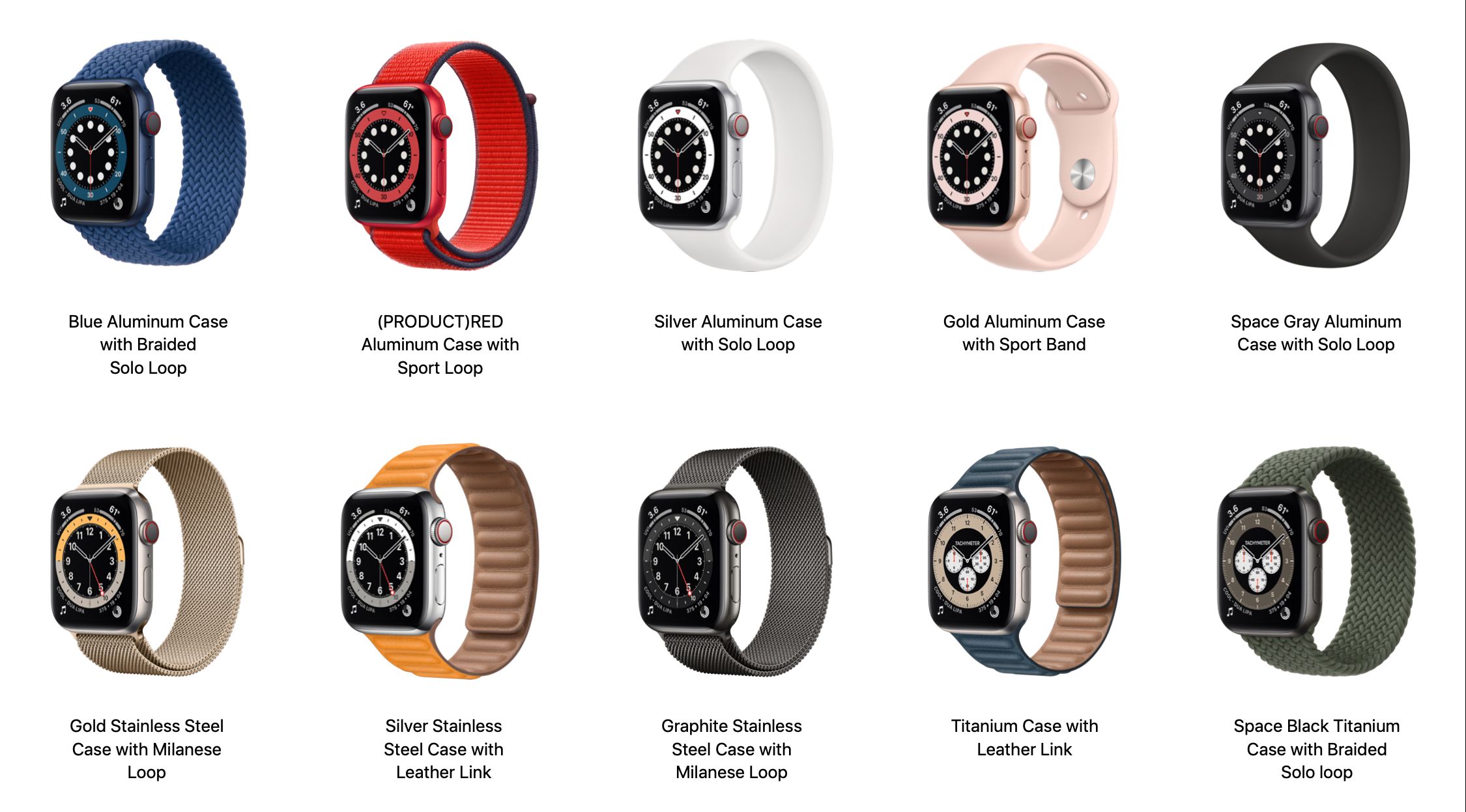 PERFORMANCE AND WATCHOS 7
Powering Watch Series 6 is the new S6 system-in-package - based on the A13 Bionic found in the iPhone 11 line-up - which Apple says is 20 per cent faster and more energy-efficient. For good measure, Apple's U1 chip is also featured for the very first time, enabling more precise location, and make your digital car keys stored in the Wallet app zoom you out in no time.
Its always-on display meanwhile, maxes out at 500 nits when your wrist is down - 2.5 times brighter than Series 5. That'll be useful if you're too lazy to lift your hand up when the Watch is within your eyes' view, and even more useful under the bright sunny days. Watch hands are also brighter when your wrist is down, which makes it even easier to see the time.
Speaking of hands, there are a whole lotta new watch faces and complications. Sounds cliche, but you're spoilt for choice here with seven newbies that will really cater to everyone's tastes, from the serious ones in Chronograph Pro to artistry from Canadian illustrator Geoff McFetridge and everyone's favourite goofy way of expressing themselves, Memoji.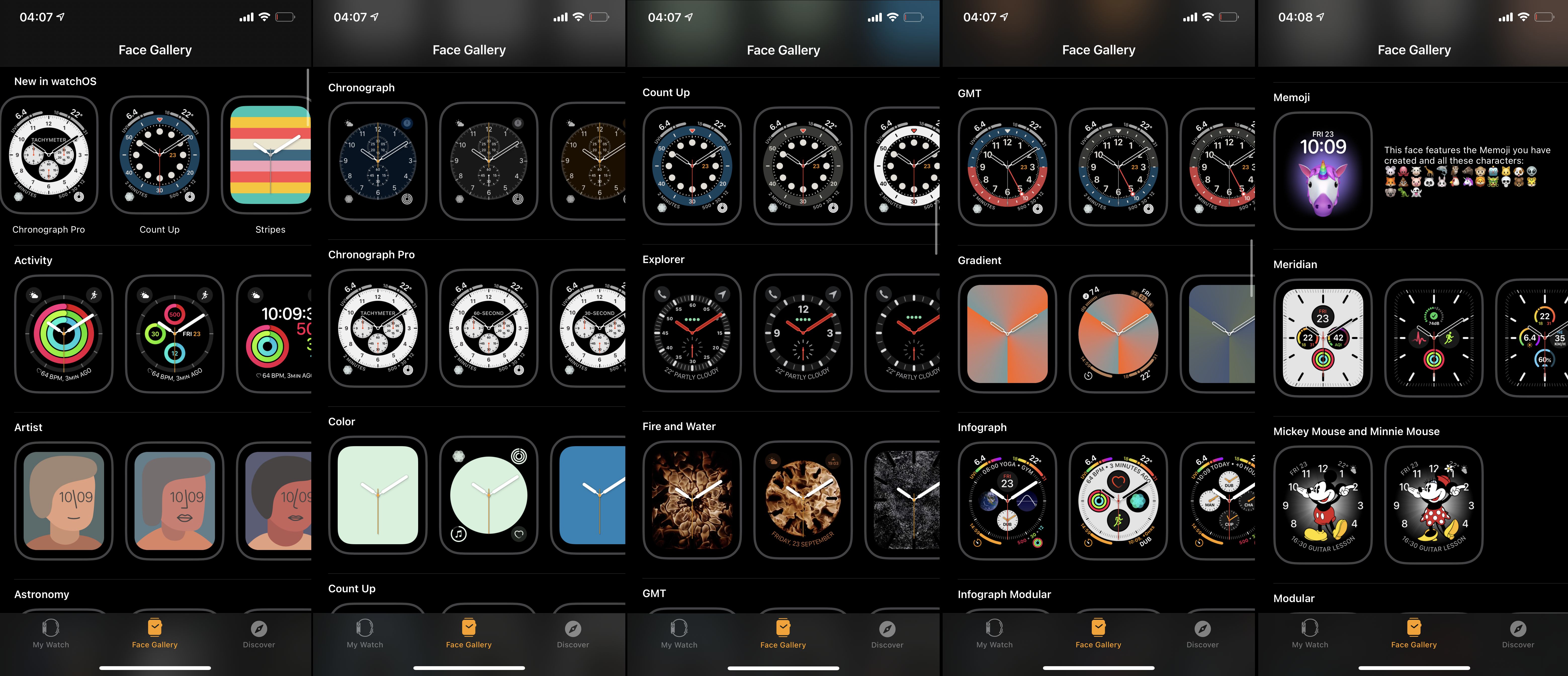 And along with the rollout of Apple's other operating systems a day after last week's special event is the software behind all of these and more: watchOS 7, which comes by default on Series 6.
The banner additions to the new device are blood oxygen and electrocardiogram (ECG) measurement. Now, these aren't new to the wearable market, but it's been very clear all this time that Apple isn't in a hurry to have the first go at things as they seek to hash out with the best possible stuff before offering it (aside from the 'cool' factor that comes along with it).
First up, blood oxygen saturation, or, as more commonly known, SpO2. And why is this a big deal? Data collected from this function contain information on breathing and circulation, which essentially makes it a vital sign.
Apple essentially turned its Watch into a pulse oximeter to measure this metric.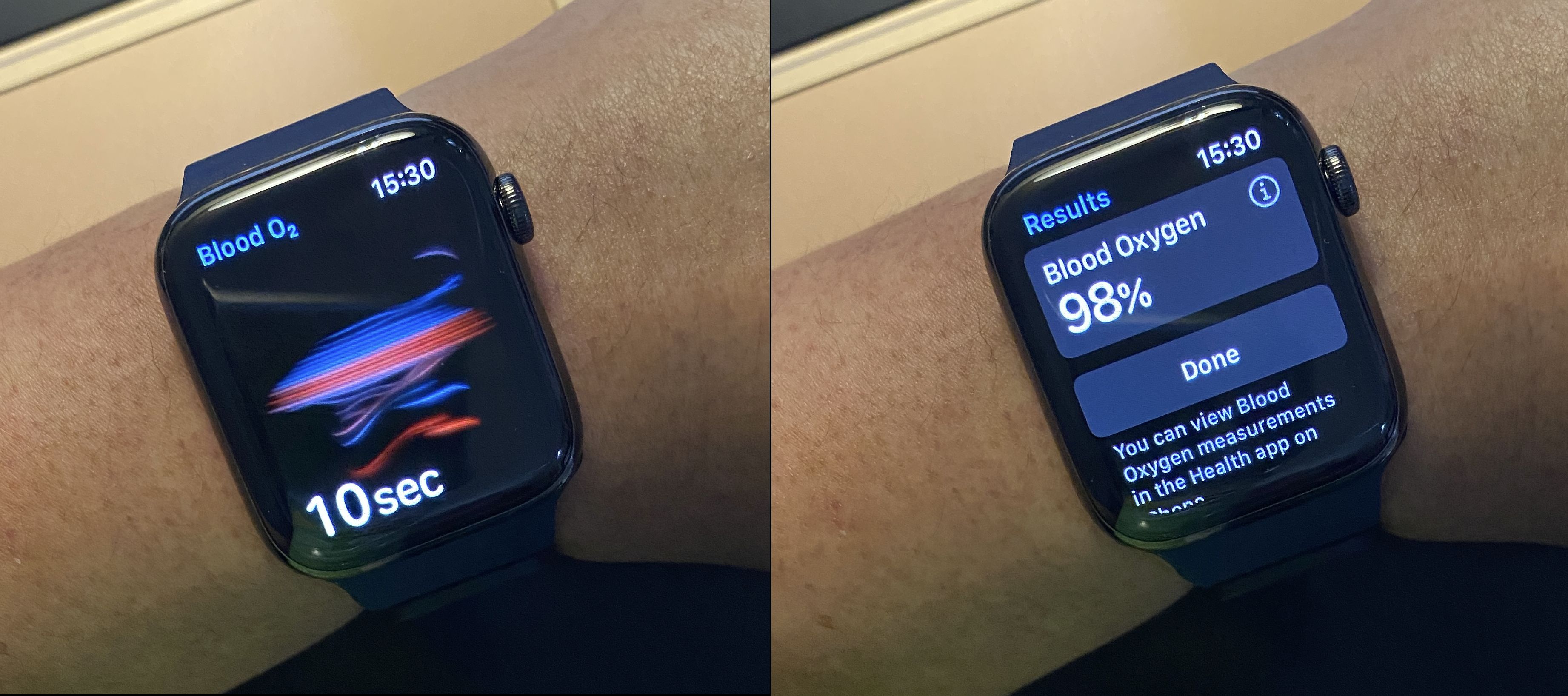 It takes 15 seconds to measure SpO2, and make sure your Watch is snug and don't move your arm. Detailed results can be seen on the Health app on an iPhone.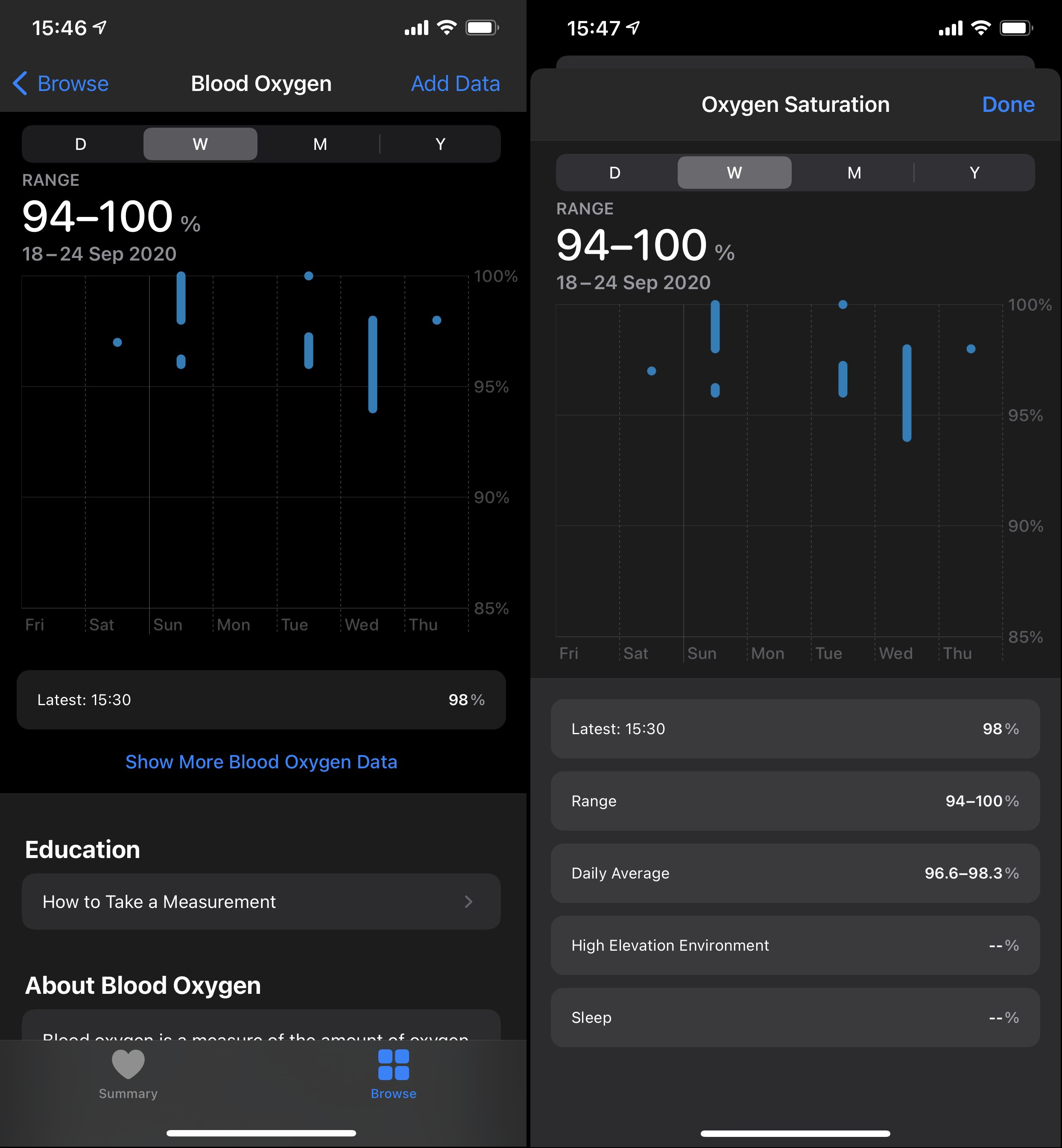 Apple first launched its ECG app back in December 2018 on Watch Series 4. It wasn't immediately available in many countries, but they rolled it out slowly. It has finally arrived on our shores here in the UAE after the government gave its seal of approval. 
You can begin by setting up the ECG app, and the Watch app on the iPhone provides a pretty clear step-by-step way of doing so: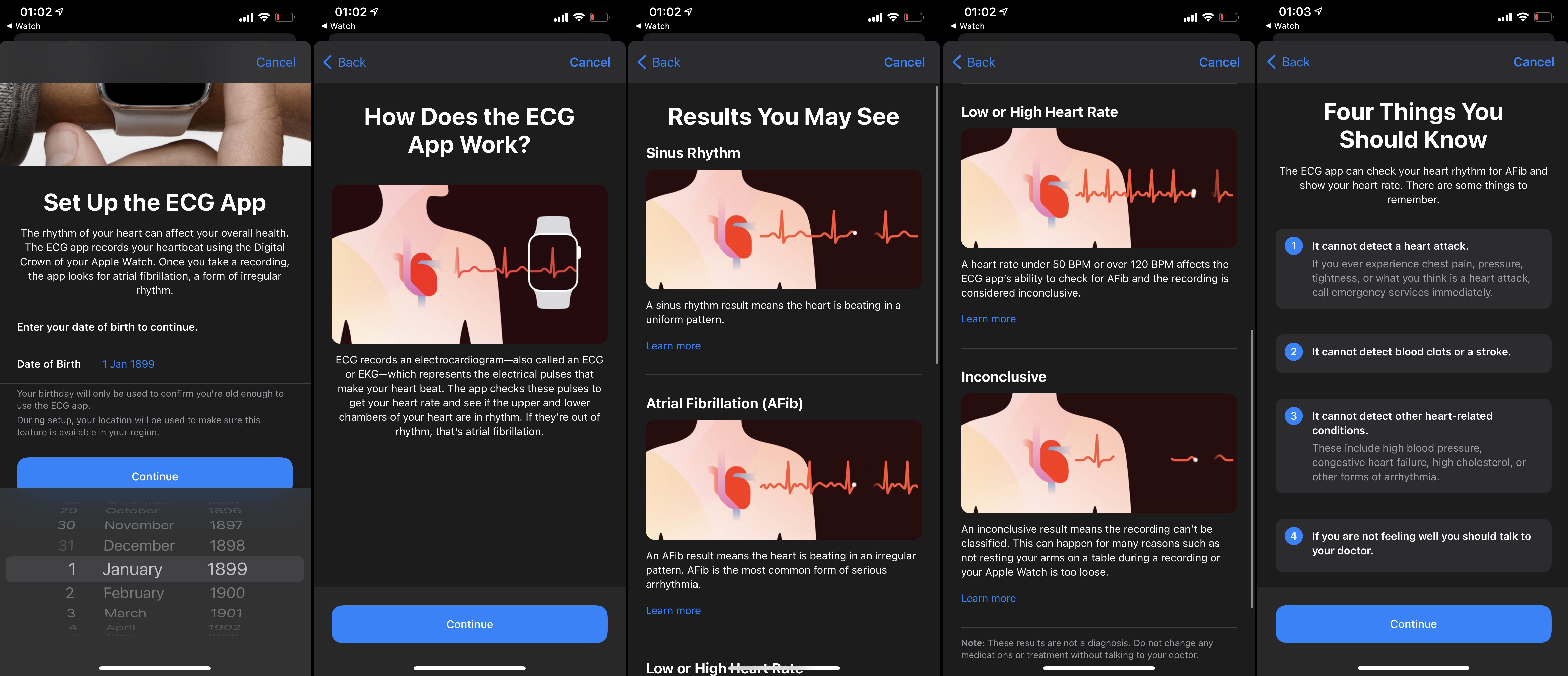 You'll be required to enter your birth date. Four results are possible, but even if you get a sinus rhythm, the app explicitly reminds you of critical things: The app can't detect a heart attack, clots or a stroke and other heart-related conditions. If you think there's something wrong with you, go and see a doctor.
Taking an ECG test is easy enough: With your Watch is snugged properly on your wrist, place a finger on the digital crown and there you go.
It takes 30 seconds for an ECG reading; removing your finger from the crown will nullify it and will reset the timer. Also make sure that your arm is rested properly.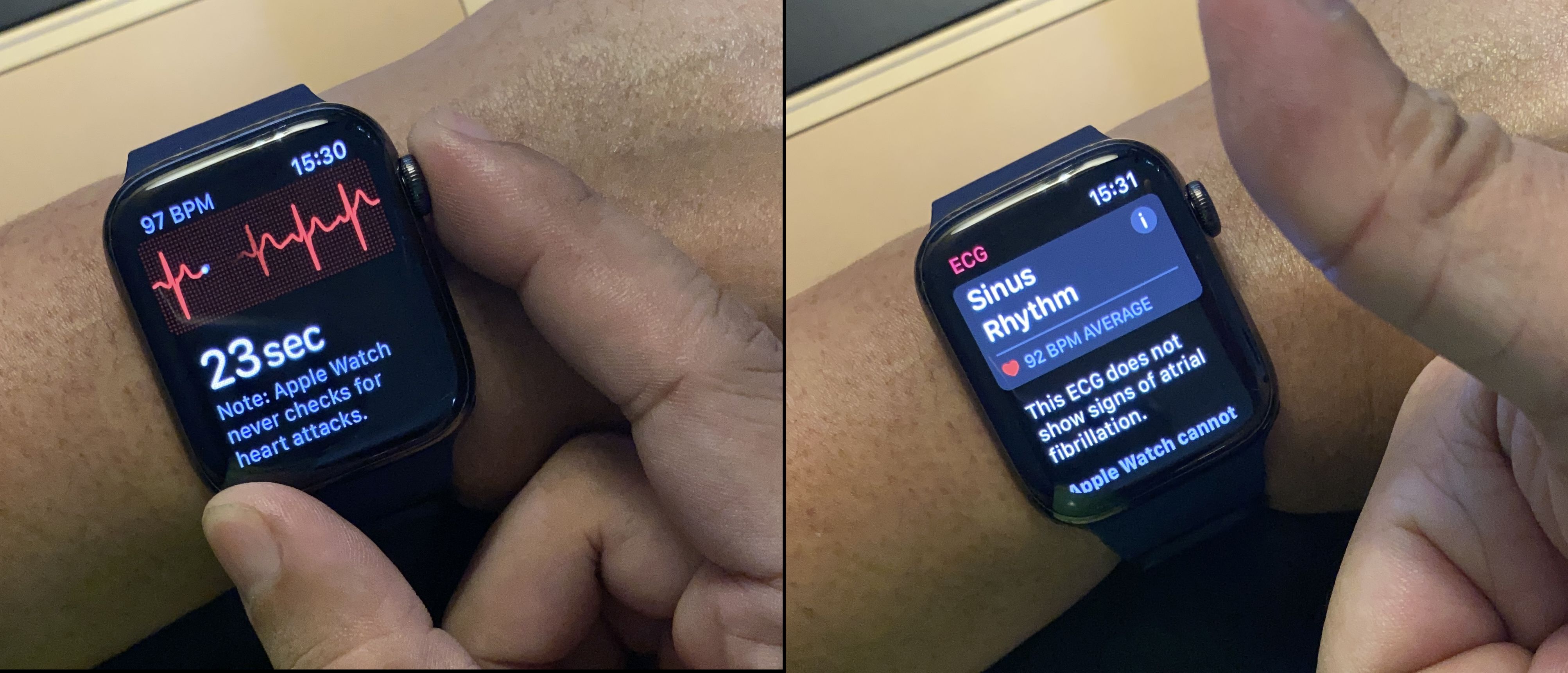 The results can be seen on both the Watch and the iPhone app, with the later giving more details and a feature to export a PDF of it to your doctor.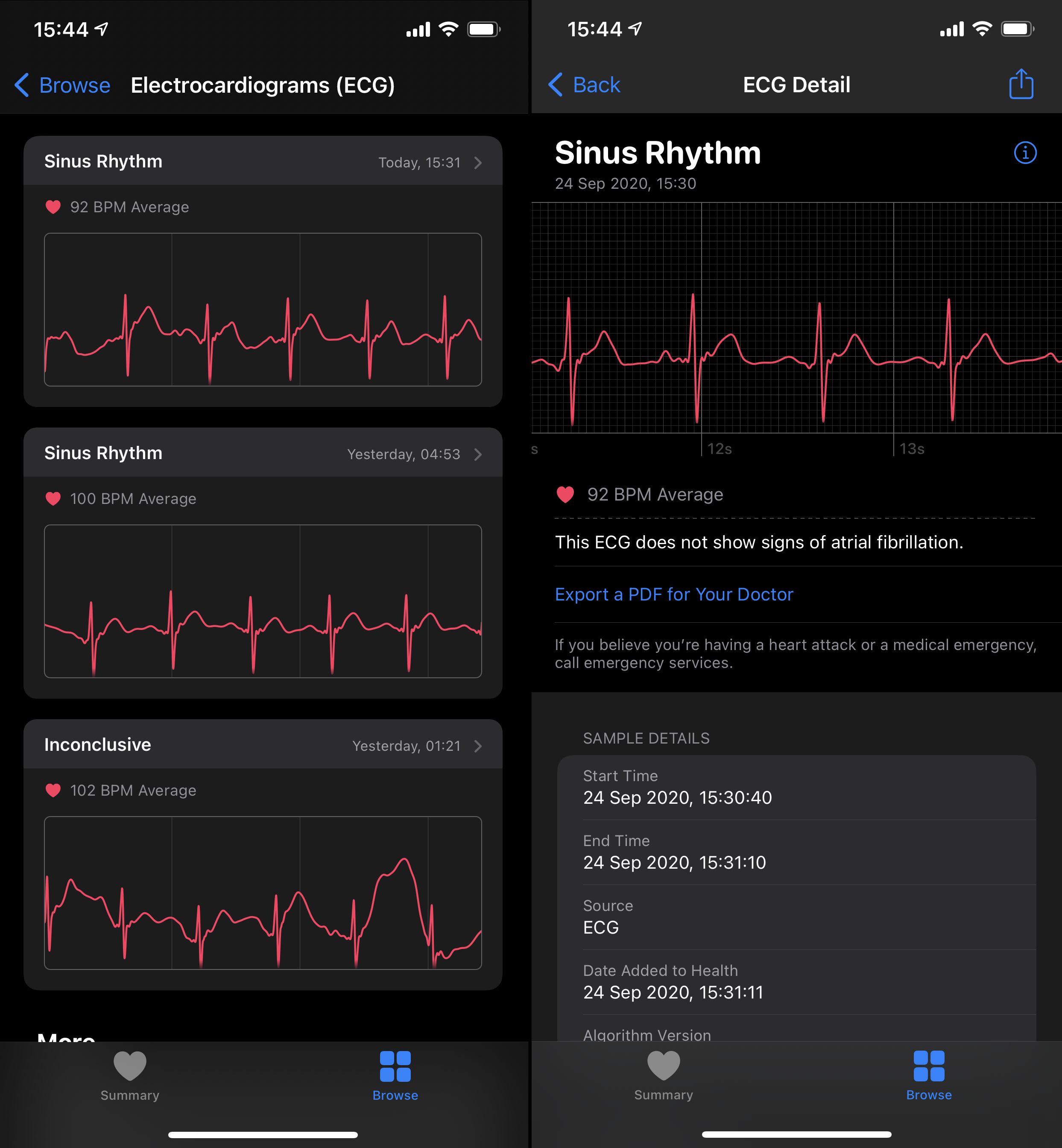 Related to this, Watch Series 6 can also notify you if you have atrial fibrillation (Afib), which is a type of irregular heartbeat. You can set it up within the Health app.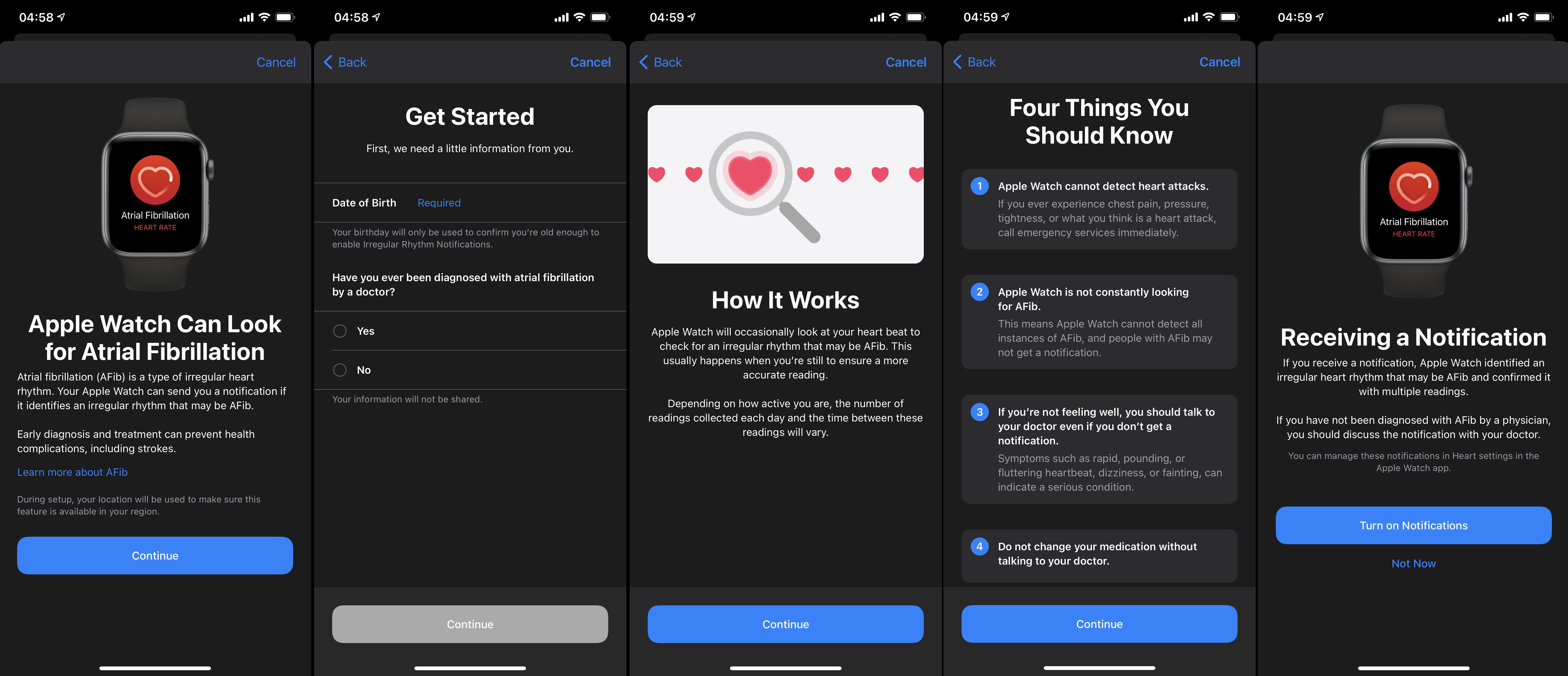 If the Watch detects you have Afib, it will notify you. Again, Apple makes it explicitly clear that the Afib function cannot detect heart attacks, and even those with such a condition may not be notified. It will, though, occasionally check you out to determine if any irregular rhythm may be deemed as Afib.
Again, we want to make it clear that while the results are references that give a very good snapshot of your health, seeing your doctor, of course, is still the best solution in the event you don't feel normal.
Indeed, the ability to measure health metrics on wearables are becoming a battleground: If wearables are weapons, then health metric measurements are the ammunition in this war. It's no secret that companies have been doing their research and collaborating with various organisations to create and back up their wellness offerings, and it's been quite a battle.
In fact, Apple is collaborating with top health institutions, including the University of California Irvine, the Ted Rogers Centre for Heart Research, Peter Munk Cardiac Centre at the University Health Network to better understand how Apple Watch metrics can help with management of heart failure.
Also, the Seattle Flu Study at the Brotman Baty Institute for Precision Medicine and the University of Washington School of Medicine will seek to learn how signals from apps on Apple Watch could serve as early signs of respiratory conditions like influenza and Covid-19.
Pretty busy times for Apple, and they're making the most out of it.
And one last thing: The ECG app is only available on Watch Series 6, because of the type of sensors incorporated into it.
Of course, you still get the other safety features that have become staples in the Apple Watch line-up: Emergency SOS, which you can activate by pressing and holding the side button to contact local emergency services, alert your emergency contacts, send your location and display your medical ID badge; international emergency calling, which lets you call local emergency services when you're abroad; and fall detection, which detects a hard fall that will give you an option of either starting an emergency call or dismissing it if you're fine, or automatically places a call in the unfortunate event you remain motionless for a minute.
MORE KEY FEATURES
Still awake after all this? Save it for tonight or nap time because Apple's included a native sleep tracking feature on Series 6, with the usual mission of helping you achieve your sleep goals, from setting bedtime to reviewing your trends while snoozing.
Now if you're worried about calls or notifications waking you up from your slumber, turning on Sleep Mode automatically activates Sleep Lock, which in turn drags along Do Not Disturb into the fold, ensuring you get a peaceful night's sleep (now that's a triple-layer protection for you, huh?). This mode is set off when you either tap it on the Control Center or at your set bedtime; once you wake up - Watch will sense when you do so - it'll automatically exit Sleep Mode.
And here's some sort of extension of the health features, albeit a really important one in these times - handwashing. Yes, watchOS 7 will detect when you're washing your hands, time you for 20 seconds while at it and even remind you to do it. For good measure, data on your iPhone will help you keep track of your washing habits. Depending on your handwashing motion, it'll take a few seconds before the Watch finally detects the activity and starts making sure you do it right.
Workouts? There are four new of these, including dance, functional strength training, core training and cooldown. Cycling directions have also been added, which works with Maps, that lets you see bike-friendly routes and even restrooms along the way.
Family Setup has also been added. With it, you can set up and manage a Watch for someone who doesn't have an iPhone. Key items include location notifications, limiting contacts to those who are trusted and a new Schooltime feature, which limits the time a child can use a Watch.
watchOS 7 is compatible from Series 3 onwards, and from the iPhone 6s or later, including both SE models.
BATTERY
As it has always practically been, Watch Series 6's battery life remains listed as 'all-day' up to 18 hours. The simple explanation here is that the normal use cycle is from morning until night when you would usually charge up your devices. Fair enough.
However, an upgrade to two days would've been great. This not only reduces the frequency of charging it, but it will also be a huge come-on for users who are particular with longer battery life or those who have irregular patterns in their lives (like yours truly). In (our) theory, if Apple does indeed decide to come up with a Watch that lasts for two days, then the listed figure could be something like 'up to 42 hours'. Just saying, but hopefully we come to that point pretty soon, because that'll be a big factor.
Anyway, in our test, Watch Series 6's battery, if you use it with gusto, it can fall to anywhere between 20 to 30 per cent when you get home; for perspective, I usually come in at past 11pm. But actually, it can last for two days - from morning until evening the following day, with very little to spare - provided you don't use it that much save for checking alerts and notifications. In any case, what's clear is this: It's more than enough to cover your AM-to-PM routine, and you'll even have time to charge it up while having breakfast and preparing for the day.
Which leads us to charging. Apple says it now takes just 1.5 hours to fully charge the device, compared to Watch Series 5's two hours. Let's find out: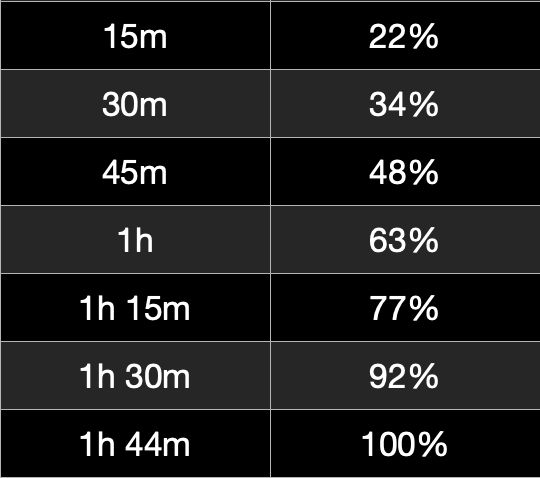 Fair enough. That 92 per cent at the 1.5-hour mark is more than enough to cover your entire day and is still considerably less than its predecessor's listed two-hour charging time.
Still... two days of battery life next time, Apple? Please?
AND SO...
An already complete wearable just got even more complete. Apple Watch Series 6 tick-tocks along all the right things - the additions of SpO2 and ECG measurements, a more powerful chipset and an improved display, among other things - are very much welcome...
...but, battery life. I mean, all-day battery life is all fair and good, and Apple has its reasons for sticking to it. Still, more of it will be highly appreciated. This isn't exactly a deal-breaker, but this means you still have to charge up daily.
Critically, the sensor overhaul and watchOS 7 combine to be a formidable duo in this advancement. And we feel sorry for those who weren't patient enough to wait for this and who bought a Series 5 - which is, by the way, no longer being sold by Apple (at least on their own channels).
Which leaves one to question what kind of additions we'll be seeing not only on the Apple Watch, but also in the wearable market in general. And, yeah... who knows how close we are to that 'serious' bit we mentioned above? 
GOODIES: ECG and SpO2 additions, all the R&D behind it, status quo on price, that lovely blue variant
GOOFIES: Battery life is still at the same level
EDITOR RATING: Not much to complain about - except that battery life thingy. We're sure Apple will figure this out. 4.5/5
These were the details of the news REVIEW: Apple Watch Series 6 for this day. We hope that we have succeeded by giving you the full details and information. To follow all our news, you can subscribe to the alerts system or to one of our different systems to provide you with all that is new.

It is also worth noting that the original news has been published and is available at Khaleej Times and the editorial team at AlKhaleej Today has confirmed it and it has been modified, and it may have been completely transferred or quoted from it and you can read and follow this news from its main source.